MKE's Fırtına Blows Silently
The 155 calibre howitzer has an electric engine which enables it to move a 48.4-ton vehicle silently. As a demo, the howitzer moved almost two meters forward and backwards in the IDEF hall eight. No one, even other exhibitors in the same hall, noticed that an almost 50-tonne vehicle was moving next to them. The howitzer was moving very silent because it was placed on the sand. The engine was silently working as it is an electric one.
There are three different types of Fırtına howitzer. MKE has produced two types. One is produced back in 2009, and the other is produced recently in cooperation with ASFAT. The third howitzer is the product of BMC and is called the next generation.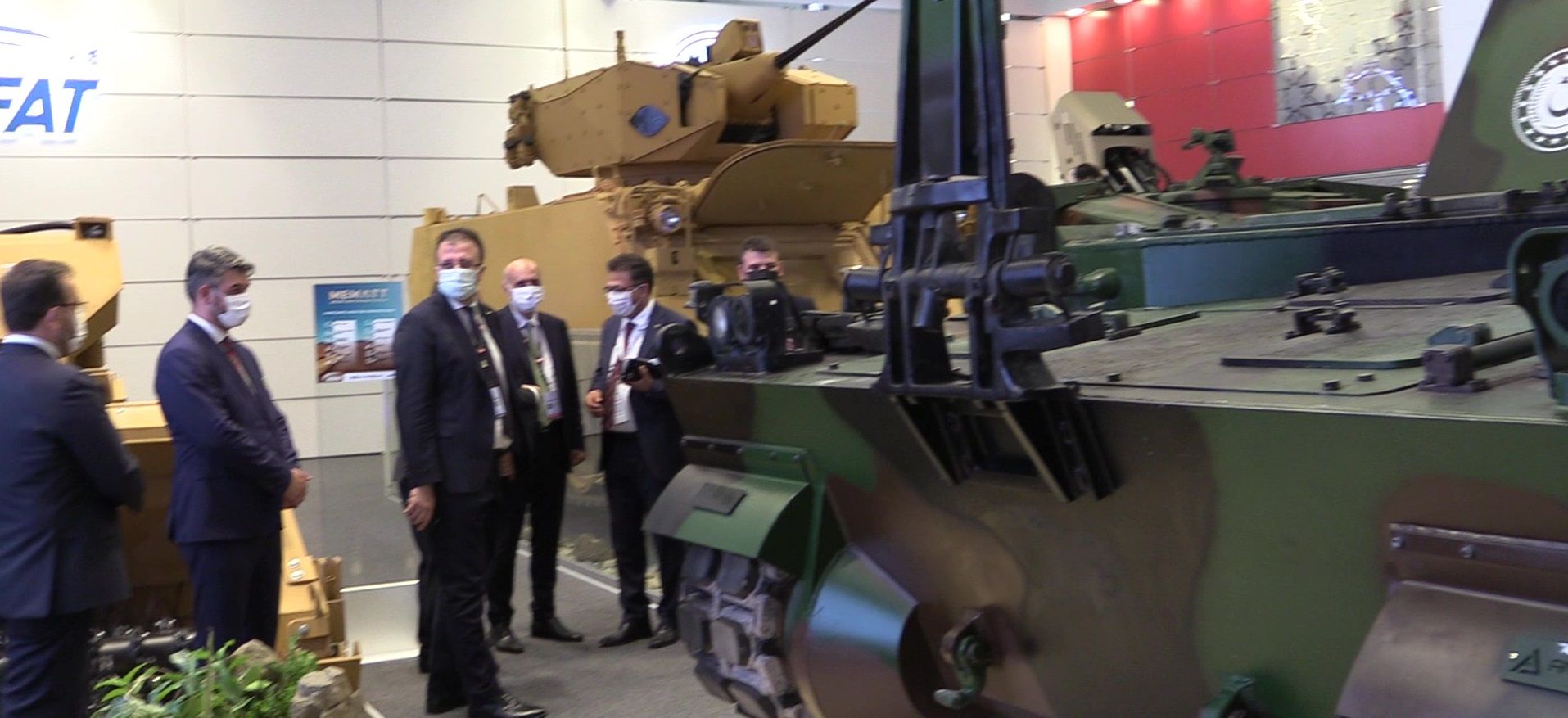 Technical Specifications of Fırtına Howitzer
| | | |
| --- | --- | --- |
| | | |
| | DIESEL | HYBRID |
| Engine Type | MT-881 Ka-500 | ELECTRIC 2P2S |
| Engine Power | 1.000 HP (735 KW) | 1.300 HP (1.000 kW) |
| Torque | 3,030 Nm | 10,000 Nm |
| Engine Speed | 2.320 rpm | 3.000 rpm |
| Engine Displacement | 18.2 Liters | 2.8 Liters (generator) |
| Transmission | Allison X1100-5 Automatic | - |
| Number of Gears | 4 Forward, 2 Reverse | 1 Forward, 1 Reverse |
| Vehicle Weight | 47 Tons | 48.4 Tons |
| Top Speed | 65 km/h | 60 km/h (± 10km/h) |
| Acceleration | 0-30 km/h 7 seconds | 0-30 km/h 6 seconds |
| Gradient | 60% | 60% |
| Side Slope | 40% | 40% |
| Fuel | Diesel | Diesel (generator) |
| Range (15km/h) | 500 km | 500 km (± 50km) |
| Range (Full Load) | 226 km | 300 km (± 30km) |
| Consumption (Full Load) | 161 Lt/h 32 litres | 100km 5.5 kW/km |
| Engine Weight | 1.400 Kg | 680 kg |
| Power/Weight Ratio | 21 HP/ton | 28 HP/ton |
| Battery Pack Capacity | - | 357.12kWh (595.2Vdc) |
| Charge Time | - | 4 hours |
| Generator Capacity | - | 2x38kW |
| Fuel Tank | 1.500 Lt | 250 Lt |
| Maintenance Interval | 100 hours | 900 hours |