Defence Industry Agency signed the 8x8 Wheeled Container Carrier Vehicle (DROPS) Project to meet the needs of the Turkish Armed Forces in 2021. The first phase of the DROPS project consists of Logistic Support Vehicles supplied by Koluman. The firm introduced the DERMAN 8x8 Armoured Logistic Support Vehicle at the end of 2018.
The vehicle may carry an ICC container of 20 tonnes. The basic cabin is armoured and can be prepared for ballistic levels up to mine blast. According to the video released, the LSV is a Container Carrier.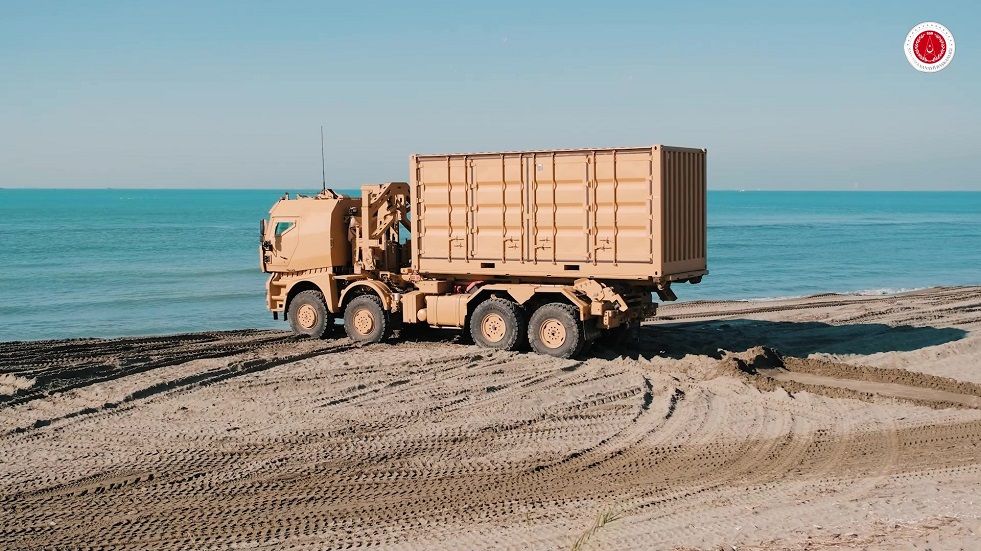 SSB President Professor Haluk Görgün made a press statement about the project and said,
"We made the first delivery of Derman, which was developed for the purpose of transporting armoured vehicles, tanks and ammunition to the operational area, command centres and similar structures to the desired places and salvaging the damaged vehicles. We believe that the Derman 8x8 wheel, with high ballistic protection and high mobility in steep and inclined conditions, will increase the strength of our Land Forces.
The project comprises 70 vehicles, 70 container carriers, 195 1CC 20 Feet Containers and 40 ZMA/ZPT Transport Platforms. The project will be completed by 2023.
The company prioritise meeting the needs of the Turkish Armed Forces in military projects and aims to offer the "DERMAN 8x8" vehicle to NATO armies.