Kuwait Signs Contract with Turkish Bayraktar for TB2 UAVs
The Kuwaiti army announced the $367 million deal in a statement, signalling a new set of bilateral relations. Kuwait's acquisition of these drones follows in the footsteps of several Gulf Cooperation Council governments, which have already purchased the Bayraktar TB2 drones to improve their defence capabilities. Kuwaiti Cabinet decided to acquire the drones on June 7th.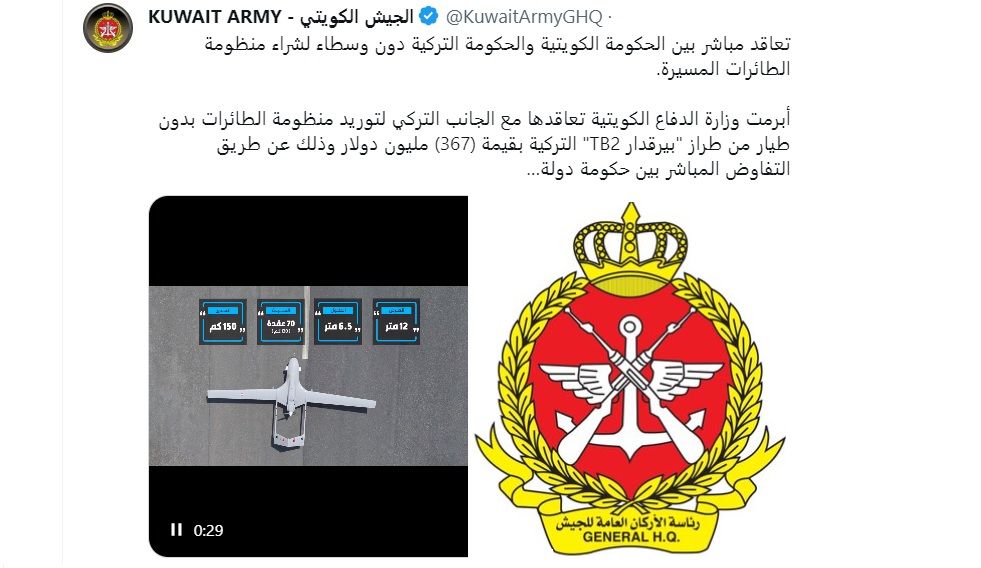 The Bayraktar TB2 has a length of 6.5 metres and can drop four laser-guided missiles. The UAV was tested in 2019 under Kuwaiti climate conditions such as high temperature, strong wind and sand storms and had an endurance of 27 hours 3 minutes.
According to the statement, the deal for the sale of Bayraktar TB2 unmanned aerial vehicles was negotiated directly between the Kuwaiti Ministry of Defence and the Turkish side, with no intermediaries involved. The overall amount of the transaction has been confirmed to be $367 million.
While the statement did not specify how many drones Kuwait would acquire or when they would arrive, it did highlight the Bayraktar TB2 drone's proven effectiveness, which has already been demonstrated in Libya, Azerbaijan, and Ukraine.
Baykar, the manufacturer of the Bayraktar TB2, said in January that it had signed a $370 million contract with the Kuwaiti Ministry of Defence to supply these drones. However, no specifics about the quantity or delivery date were provided.
According to the Kuwaiti statement, the agreement covers providing support equipment and ground tests, logistical maintenance, training for national workforce pilots and technicians, and a guarantee of spare parts availability during the contract time. It also includes the installation of a simulation system and the supply of technical support for three years.
The agreement also calls for establishing specialised infrastructure to support these drones, such as weapons, electronic warfare equipment, and mobile ground control stations.
The announcement emphasised the outstanding technical capabilities of the Bayraktar TB2 drones, emphasising its goal of improving the Kuwaiti army's defence capabilities. These capabilities include reconnaissance, targeting, military operations support, and intelligence gathering. The drones may also carry a range of weaponry, including laser-guided missiles and smart ammunition with high precision strike capability.