Ukraine Announced Aircraft Donation Program
Ukrainian pilots have visited Poland to start taking control of fighter planes they expect to be donated by European countries.
Although it is unclear which countries are giving the aeroplanes, European Union security chief Josep Borrell promised over the weekend that the EU would fund the transfer of fighter planes from numerous countries.Planes are expected from Bulgaria, Poland and Slovakia, the former Warsaw Pact countries, among the last countries to join the European Union. Hungary, on the other hand, displays a pro-Russian stance.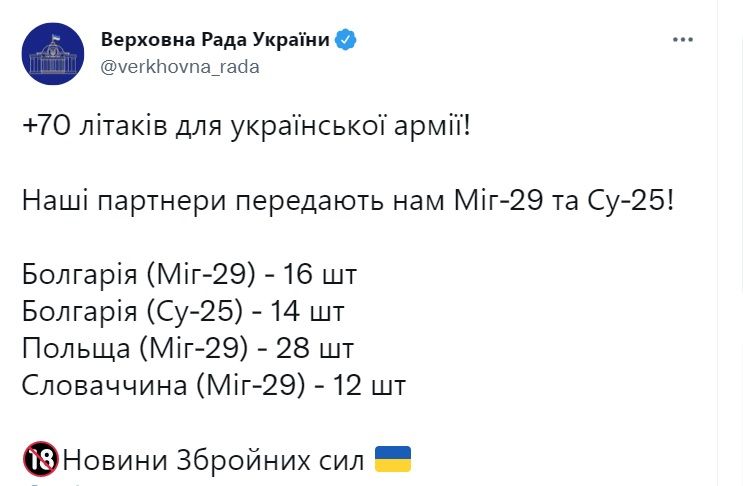 According to the tweet of the Ukrainian parliament, Bulgaria may send 16 MiG-29 and 14 Su-25 fighter jets, Poland 28 MiG-29 and Slovakia 12 MiG-29 fighter jets to Ukraine. In addition, Ukraine will establish bases at Polish airports where Ukrainian pilots can perform combat missions.
The planes which will be sent to Ukraine are already in the inventory of the Ukrainian Air Force. Thus, the adaptation process of the Ukrainian pilots to the aircraft will be concise, and the spare parts, maintenance, repair and ammunition adaptation processes for the aircraft will be overcome in a short time.MiG-29s of Poland, Bulgaria and Slovakia have undergone specific modernization programs during their use. In particular, Slovak MiG-29s have undergone extensive modernizations by RSK MiG, BAE Systems and Rockwell Collins.Poland, Bulgaria and Slovakia will ship ammunition to Ukraine alongside warplanes.All three countries are currently running fighter jet procurement programs of the type used in the NATO pact. Slovakia may acquire F-16, Poland F-16 and F-35, Bulgaria F-16 aircraft.