Qatar's F-15QA Involves runway incident
The cause of the accident is not known yet. The Air Force has not grounded its own two F-15EX jets, which are based on the F-15QA. This precaution is preferred when the accident is considered a technical failure, not a pilot fault.
The jet departed the runway upon landing, ending up on an adjacent grass strip. The Air Force did not disclose why the pilots ejected. The mishap occurred just after 7:00 a.m. local time in overcast conditions with some rain.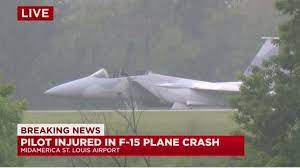 The Air Force had recently accepted the Boeing F-15QA. It was to be transferred to Qatar under the Foreign Military Sales program. Images of the aircraft taken by local news media showed the aircraft with the canopy and both ejection seats missing. There appeared to be no other damage to the factory-fresh fighter.
The Air Force recently delivered its first two F-15EX aircraft, which flew last week in the Northern Edge exercise in Alaska. The F-15QA, EX, and SA—for Saudi Arabia—all have a new fly-by-wire control system.
Available photos and video footage show the aircraft, which is missing its canopy, that appears to be between a taxiway and a runway, with its landing gear down.
The first F-15QAs arrived in February 2021 at Belleville/Scott AFB - Midamerica Airport. Flight instructors from the US Air Force started training the first QEAF flight crews.