Nikkei: France Axes NATO's Relations in the Pacific
According to the Japan-based publication Nikkei Asia, NATO is waiting for France's decision to improve its relations with Asian and Pacific countries like Japan, the Republic of Korea, Australia and New Zealand. The defence alliance has to wait for France's approval to establish an office in Tokyo until the end of 2023.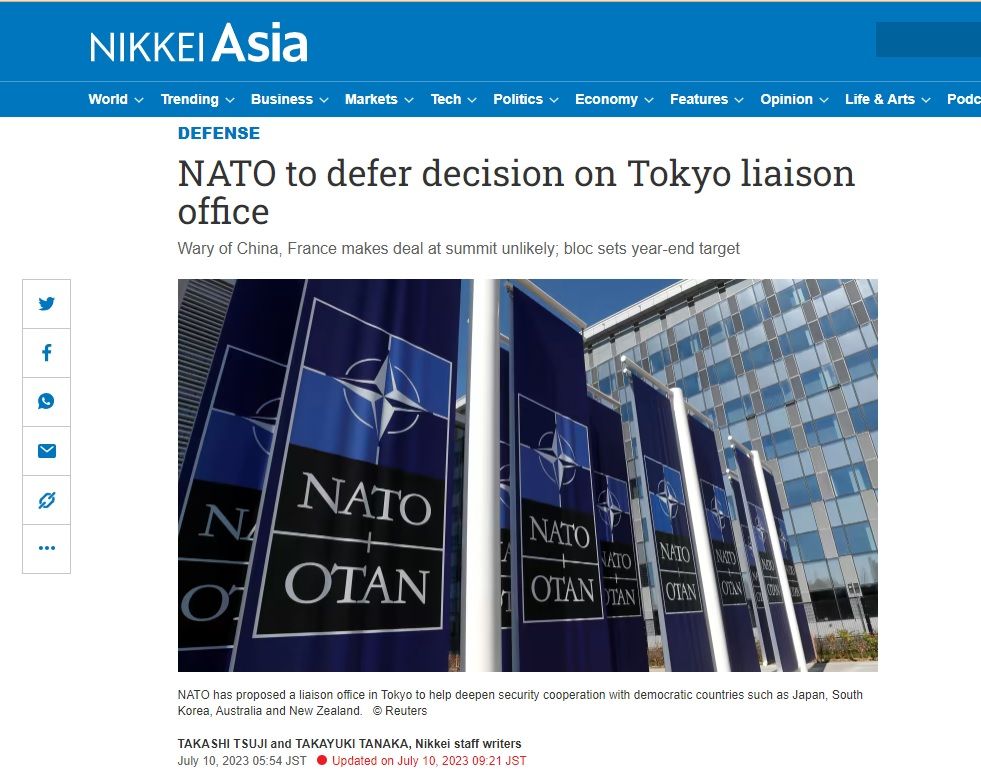 The establishment of the Tokyo office was to be enshrined in documents to be adopted at NATO's two-day summit beginning Tuesday in Lithuania. However, France has objected to the idea, citing concerns about its relations with China, and the unanimous agreement of all 31 members required for the decision appears unlikely. The bloc will work to complete the decision by the end of the year.
Some NATO leaders, including Stoltenberg and US Vice President Joe Biden, see countering China as critical to their security because China is strengthening its military by deepening ties with Russia. China could threaten the United States and Europe in newer security areas, such as cyberwarfare and disinformation.
Such concerns are driving NATO to strengthen ties with US allies Japan and South Korea. Japanese Prime Minister Fumio Kishida and South Korean President Yoon Suk Yeol will attend this week's NATO summit.

However, some member countries, such as France, value economic ties with China and do not want to provoke the country's 1.4 billion consumers. In April, President Emmanuel Macron travelled to China with a delegation of French business leaders to meet with President Xi Jinping. Because of the unusually warm welcome, the European country was able to advance business deals, including a large order for Airbus Europe.
French-Chinese relations have been well documented since the French Naval Group lost the tender it won to the US-led AUKUS five years after the agreement. With a 50 billion USD contract, the Naval Group was supposed to build submarines for Australia.
China is passionately opposed to NATO establishing a Tokyo office and may have increased its outreach to France and other member states involved.
According to a source close to the French presidential office, it would be inappropriate for the North Atlantic Treaty Organisation, which was formed to provide collective defence in Europe and North America, to open an office in the Indo-Pacific region.
"President Macron was particularly offended by the idea of setting up an office without France," a diplomatic source involved in negotiations with the NATO secretariat said. The French president is known to advocate "strategic autonomy" in security and economic areas, leveraging France's position as a nuclear power in Europe; this advocacy may have influenced the French government's opposition to the US-led initiative to establish the Tokyo office.
The agenda for the summit in Vilnius, Lithuania, includes negotiations for Sweden to join NATO, developing a framework for long-term support for Ukraine, and a one-year extension of Stoltenberg's term.