In the summer, Koluman delivered seven 8x8 Wheeled Container Carrier Vehicles to the Turkish Armed Forces. The ceremony was held with a delay but coincided with another opportunity. Koluman has recently manufactured 13 vehicles for the same project. The acceptance tests of those 13 vehicles will start next week. Koluman will deliver 70 vehicles in total for the programme.
Chairman at Koluman Holding Kaan Saltık, Deputy vice president of Defence Industry Agency (SSB) Mustafa Murat Şeker, and Mersin Governor Ali Hamza Pehlivan delivered their speeches.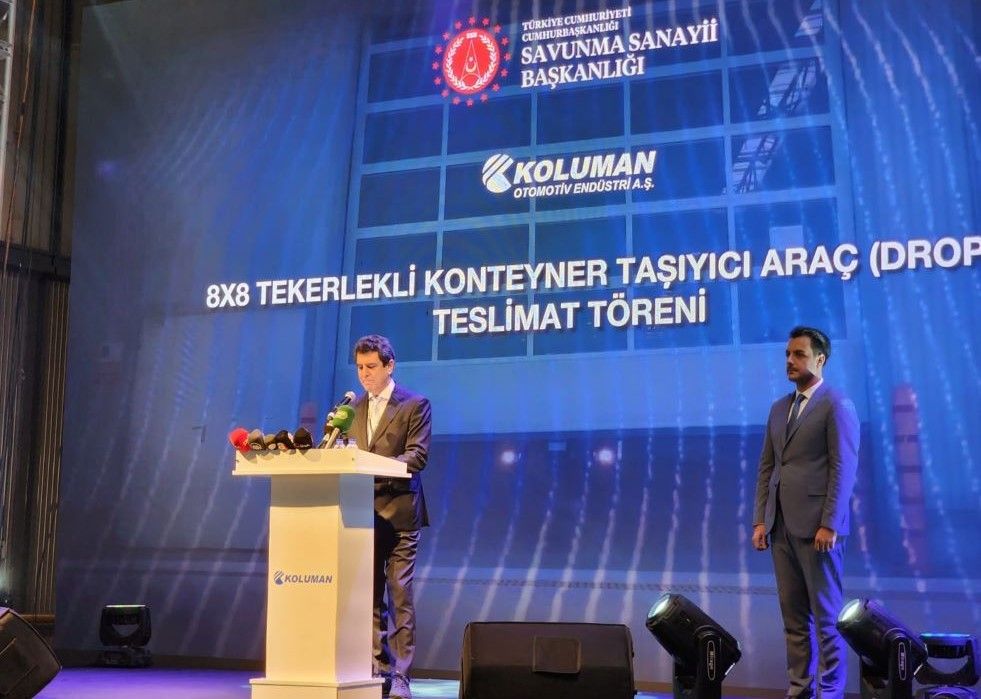 Saltık stated that they invest in the company and will continue to support it similarly. SSB Deputy President Şeker said their first visit to Koluman was about starting the project. He was asked at that time to visit the facility more often. Şeker noted that they are visiting to deliver the vehicle now, and he wants to witness the delivery to foreign countries in future. Mersin Governor Pehlivan stated that the vehicles were tested for 30 thousand kilometres for their robustness.
Turkish Army Logistics Commander Alparslan Işık received the symbolic keys of vehicles.
The vehicle may carry an ICC container of 20 tonnes. The basic cabin is armoured and can be prepared for ballistic levels up to mine blast.