KAI Designs MC-X Multirole Transport Aircraft
The company indicated that this aircraft could act as a drone carrier, launcher, and platform to launch rockets for space missions.
KAI proposed at the Republic of Aerospace Conference in 2021 to develop MC-X multi-mission cargo aircraft to meet Korea Air Force (RoKAF) requirements. ROKAF aims to modernise its logistic support fleet to replace its ageing C-130H/J and CN-235 aircraft with larger ones.
KAI and the UAE government signed a 3.2 billion MoU for joint cargo aircraft in January 2023, although cost-sharing details have not been confirmed. The agreement is part of the UAE-Republic of Korea (ROK) decision, where the UAE announced it would invest $30 billion in the ROK.
Since it was first introduced, the design and specifications of the MC-X have undergone a series of changes. ROK's Agency for Defence Development (ADD) previously submitted plans to test-launch a 13 m, 16-tonne rocket from a C-130J Super Hercules transport aircraft in 2027.
The latest revision states that this aircraft is 40 m long with a wingspan of 41 m and a height of 13.5 m. The wing area is 200 m2 with an aspect ratio of 7.6 and a main wing sweep angle of 25 degrees. It is located on a high wing.
Additionally, the number of main landing gear has been increased from 8 to 12 to improve runway performance.
With a Maximum Take-off Weight (MTOW) of around 92,000 kg, the MC-X can carry a maximum payload of 30 tonnes. Its cruise speed will be 918 km/h (Mach 0.75) at an altitude of over 30,000 feet, with a 7,000 km range.
The compartment measures 3.5 m wide, 3.4 m high and 17 m long. This aircraft is in a class between the Embraer C-390 and Kawasaki C-2 in terms of physical dimensions.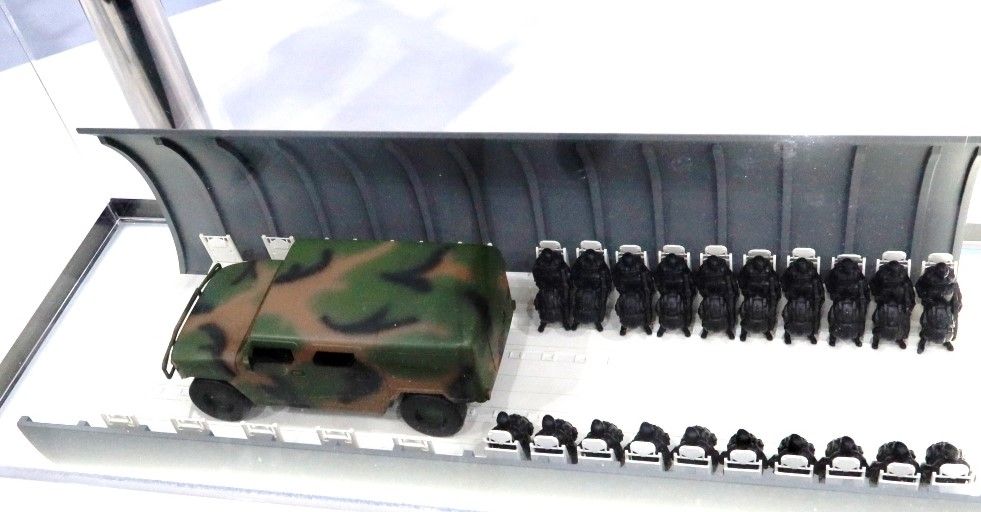 The plan is that the first MC-X Block I will be a standard tactical transport aircraft capable of carrying 92 combat personnel or 74 paratroopers and cargo.
The aircraft will carry seven 463L pallets at full height, two low ones, a K55A1 155 mm self-propelled howitzer with two full pallets, or a K21 infantry fighting vehicle with two pallets. The aircraft could carry 48 Meteor beyond-visual-range air-to-air missiles (BVAAM).
Block II will focus on firefighting, aeromedical evacuation, and mid-air refuelling capabilities. Air refuelling will be performed using probe-and-drogue or boom pods installed under "wet" pylons, which are critical for refuelling most RoKAF assets, such as the Boeing F-15K and KAI KF-21.
Block III will be about the Manned-Unmanned Teaming (MUM-T) concept developed by RoKAF with KAI. The MC-X will act as a mother ship and launch UAVs. Based on this concept, the MC-X can deploy 19 small UAVs weighing 150 kg, which KAI is developing.
Other variants of the MC-X include a "rocket carrier" or Air Launch to Orbit (ALTO) for launching micro-satellites.