Hürjet Flies in Formation with Turkish Stars Acroteam
Turkish Aerospace's (TUSAŞ) HÜRJET flew in formation on 3 September with the Turkish Stars, the aerobatic team of the Air Force Command. Turkish Defence Industry Agency published a video about the flight. Six NF-5A/B jets affiliated with Turkish Stars took off. Although Turkish Stars usually consist of six planes, they sometimes perform shows with seven or even eight jets. This time, Hürjet joined the team as the seventh member and headed it during the flight to demonstrate its position in future.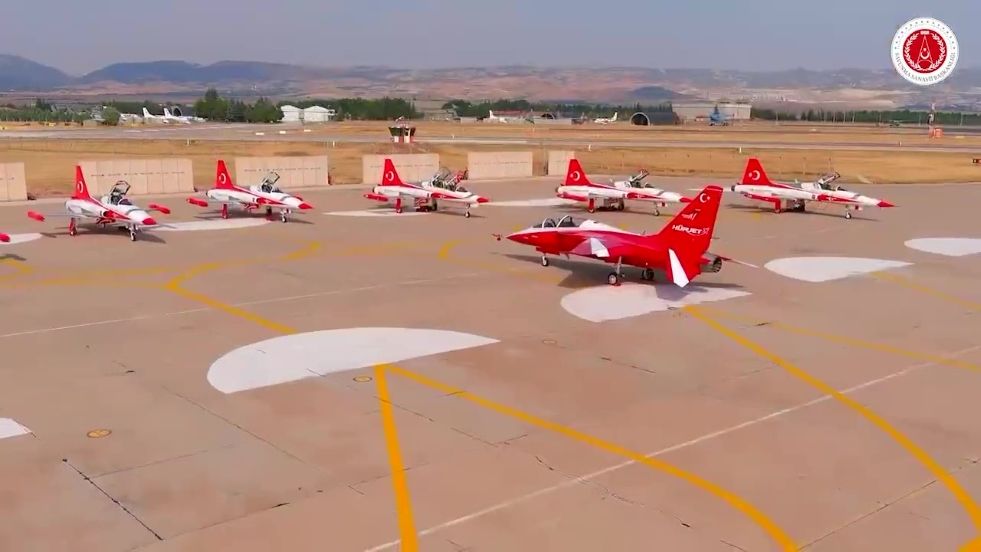 Hürjet has performed 17 flights so far and flew 9 hours and 8 minutes in total. During this period, the aircraft completed the flight control, air data, and aircraft system tests. The flight of Hürjet with Turkish Stars took 37 minutes. Hürjet reached an altitude of 15,403 feet and a speed of 351 knots in this flight.
Variants of Hürjet include Jet Trainer, Acroteam Aircraft, Combat Readiness Aircraft, and Aggressor Aircraft. There are design works for a maritime version to be deployed at TCG Anadolu (L400).
SSB and TUSAŞ signed a contract on 27 December 2022 to produce four aircraft in the first batch and an additional 12 jets, if required, in the second batch.
The Turkish Stars aerobatic team has been flying with NF-5A/B Freedom Fighter aircraft for 30 years since its establishment. The NF-5A/B jets will be replaced with Hürjet.
Hürjet will also replace the T-38s, the jet trainer aircraft of the Turkish Air Force.