Bell rolls out Bahrain's first AH-1Z
In addition to the 12 AH-1Z helicopters, Bahrain will receive Lockheed Martin AGM-114 Hellfire air-to-surface missiles, BAE Systems Advanced Precision Kill Weapon System II (APKWS-II ) guided rockets, and a Thales TopOwl helmet-mounted display system, as noted by the U.S. Defence Security and Cooperation Agency (DSCA) when the procurement was first approved. For communication, it is outfitted with Link 16 hardware and software. The RBAF helicopters are being manufactured as part of the U.S. military's Lot 16 manufacturing cycle.
Bell designed the AH-1Z for the United States Marine Corps. It features a completely integrated glass cockpit and is capable of carrying a wide range of munitions.
Bahrain participates in international counter-terrorism activities in the Arabian Gulf, as well as defence against neighbouring Iran. After Pakistan, Bahrain is the second-largest export customer (while Pakistan was supposed to have begun receiving its aircraft, they are in storage in the U.S. following a diplomatic dispute between the governments of both countries). The Czech Republic has also signed on for the helicopter.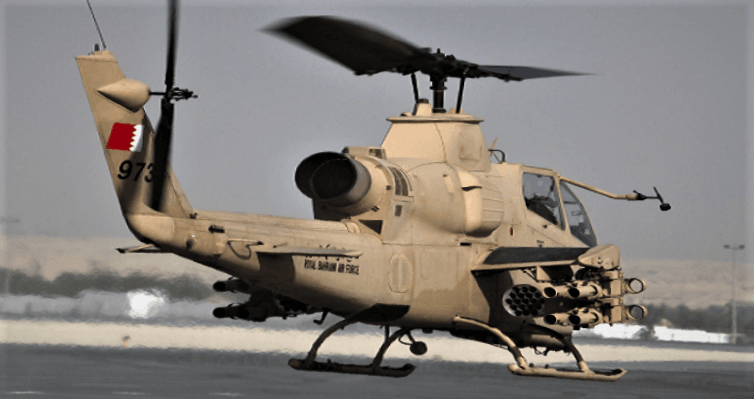 The RBAF has operated two-blade, single-engine versions of the AH-1 Cobra since 1994, having acquired a mix of AH-1E, AH-1F and AH-1P helicopters for service with the 8th and 9th Helicopter Squadrons at Riffa airbase, which houses all of the Kingdom's rotary-wing force.