BAYKAR, ROKETSAN and ASELSAN to Export to Saudi Arabia
Defence industry cooperation between Türkiye and Saudi Arabia is deepening. In this direction, Turkish companies BAYKAR, ROKETSAN and ASELSAN and the National Company for Mechanical Systems (NCMS) company of the Ministry of Defence of Saudi Arabia signed an agreement and two Memorandum of Understanding (MoU).
Defence Industry Agency (SSB) President Professor Haluk Görgün, BAYKAR General Manager Haluk Bayraktar, ROKETSAN General Manager Murat İkinci and ASELSAN General Manager Ahmet Akyol attended the signing ceremony in Saudi Arabia.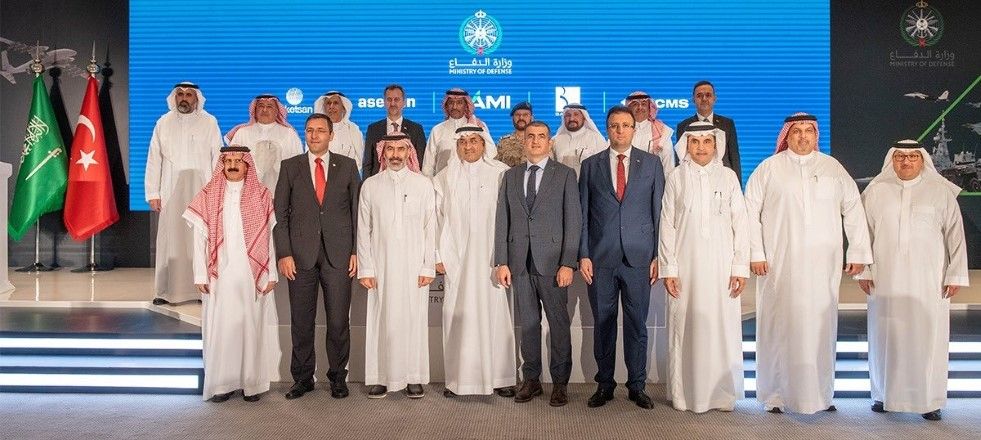 The first agreement was signed between BAYKAR and Saudi Arabian Military Industries (SAMI), which is owned by the Saudi Arabian state, to localise unmanned aerial vehicles in Saudi Arabia. BAYKAR had recently signed the agreement to export AKINCI Attack Unmanned Aerial Vehicles worth $3.1 billion to Saudi Arabia at a ceremony witnessed by President Recep Tayyip Erdoğan.
Haluk Bayraktar, who shared his views on social media, said, "In this context, we signed a comprehensive cooperation agreement with SAMI to produce Bayraktar AKINCI UCAV in Saudi Arabia. Thus, strong and strategic cooperation takes place between Turkiye and Saudi Arabia. Our bond of friendship is getting stronger. Historical steps are being taken for regional and global stability.
Under the guidance of our Defence Industry Agency Presidency, as Baykar, we also strive to develop our industry. The companies we cooperate with also follow the path we have opened and contribute significantly to our ecosystem. ASELSAN and ROKETSAN, with whom we work together in many fields, will use their experience and experience in this context to develop the Saudi Arabian defence industry. In this way, export doors and new business areas will be opened for hundreds of our companies that produce subsystems in the Turkish defence and aviation industry."
ROKETSAN, on the other hand, signed a memorandum of understanding with the NCMS. The company wrote on social media, "With the agreement of intent we signed and Baykar's export success, we are taking firm steps towards rapidly increasing our defences and aerospace industry exports." ROKETSAN's memorandum of understanding is based on smart ammunition and guidance kit technologies.
ASELSAN made the following statement on the subject on social media:
Joint projects, including localisation, will be carried out in the fields of electro-optical surveillance and targeting systems, guidance kits and guided ammunition for use in UAVs that Baykar exports.
Saudi NCMS is established to localise technology in part of the Vision 2030 of Saudi Arabia.
The agreements were signed in the presence of SSB President Haluk Görgün and the Deputy Minister of Defence of Saudi Arabia Dr. Khalid Bin Hussein Al Bayari.