The concept was unveiled in Ankara at a joint press conference in late October 2020. ULAQ will be armed with Turkish missile manufacturer Roketsan's Cirit and L-UMTAS missiles.
ULAQ has been built from advanced composites. It has day/night vision capabilities, encrypted communication infrastructure.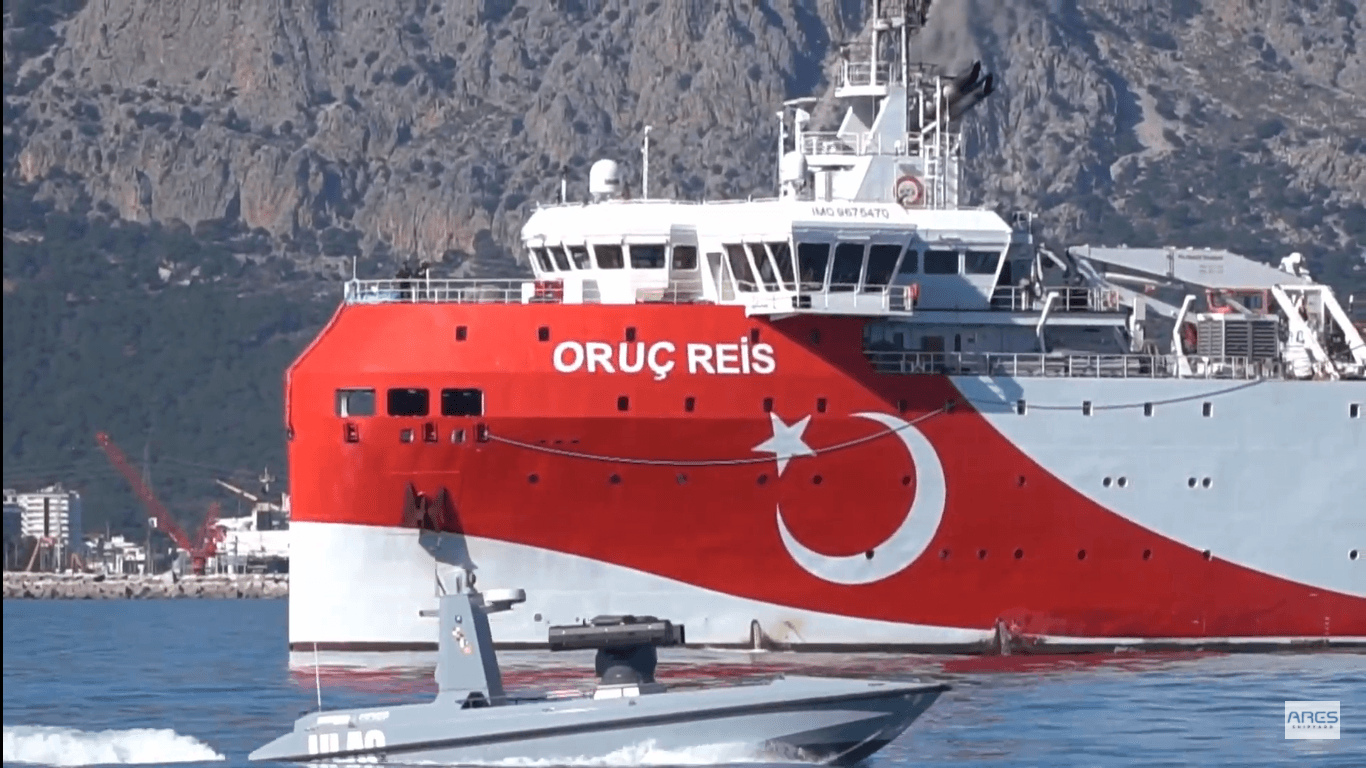 Along with the missile systems, AUSV will be equipped with different variations of communication and intelligence systems like jamming and electronic warfare systems to correspond to diverse operational needs. AUSV will be able to carry out joint operations with complementary forces such as UAV's, AUAV's and TUAV's. Furthermore, AUSV is not only a remotely controlled vehicle but also and more importantly an autonomous vehicle that hosts artificial intelligence.
It is stated by ARES Shipyard and Meteksan Savunma that; after the prototype vessel, other USVs for the operations like surveillance and intelligence, mine countermeasures, anti-submarine warfare, firefighting, search and rescue missions, will be ready to manufacture accordingly.
Specifications of ULAQ :
Range: 400 km.
Length: 11 meters
Speed: 35 knots
Range: 215 Nautical Miles
Armament: 4xCirit and 2xUMTAS missiles
Control station: Can be controlled from ground and sea stations
The 2.75" Laser Guided Missile CİRİT has been designed to fill the tactical gap between 2.75" unguided rockets and anti-tank missiles.
The 2.75" Laser Guided Missile CİRİT is stored in a canister to ease loading to the launcher and is fired from a "Smart Launcher". The launcher is compatible with MIL-STD-8591, MIL-STD-1553 and MIL-STD-1760 interfaces.
Cirit 2.75″ Laser-Guided Missile
The 2.75" Laser Guided Missile CİRİT's versatile design permits easy integration with different platforms. It has already proven its capabilities in both air-to-surface and surface-to-surface engagement scenarios.
Its Smart Launcher allows for platform and target information to be transferred automatically to the missile prior to firing to enhance the performance envelope. Communication through the Smart Launcher MIL-STD-1760 Interface enables the transfer of alignment, utilizing the position and status of the platform, environmental conditions, target coordinates and position of the target.
The 2.75" Laser Guided Missile CİRİT can be integrated into various platforms such as helicopters, UAVs, land vehicles, fixed/towed land platforms, close-air-support aircraft, naval platforms, including coastguard vessels and fast patrol boats. Target designation can be carried out from the firing platform or from any other designator.
Technical Specifications
Diameter2.75" (70 mm)
Length1.9 m
Weight15 kg (without Canister)
Range1.5 km – 8 km Warhead Types
Multi-Purpose Warhead
High Explosive Warhead Seeker Mid Course Guidance with Micro Electro Mechanical Systems - Inertial Measurement Unit
Terminal Guidance with Semi-Active Laser Propulsion Min. Smoke Composite Solid Propellant Target Types Light Armoured / Unarmoured Vehicles, Infantry Laser Designation Laser Compatible with STANAG 3733.

L-UMTAS Laser-Guided Long Range Anti-Tank Missile System
L-UMTAS is a long-range laser-guided anti-tank precision missile system developed primarily for attack helicopter platforms. The laser guidance and tandem armour-piercing warhead features of L-UMTAS ensure its effectivity against both stationary and moving targets. The missile can lock onto the target before launch.
System Specifications
Day-Night Operational Capability
Lock-On Before Launch (LOBL) or Lock-On After Launch (LOAL)
Fire Behind Mask
Effective Against Stationary and Moving
Targets
Insensitive Munition Characteristics Against Fuel Fire and Bullet Impact
Platforms
• T129 ATAK Attack H/C
• S70-B SEAHAWK H/C
• HÜRKUŞ-C Light Attack A/C
• Platforms That Have MIL-STD-1760 and MIL-STD-1553 Interfaces
Technical Specifications
Diameter160 mm
Length1.8 m
Weight 37.5 kg
Range500 - 8.000 m
Seeker Semi-Active Laser
Warhead Types Tandem High Energy Antitank Warhead
High Explosive Blast Fragmentation Warhead
Launcher
Missile Capacity4
Weight 60 kg
Standard InterfaceMIL-STD-1760