Turkiye Produces Amphibious Subsystems Domestically
YKSN, one of the SAHA Expo companies, provides amphibious operations of armoured vehicles in deep water. The company markets the product under the MILPOD brand, with few competitors worldwide. There are remarkable points where the products provide an advantage over their competitors.
YKSN CTO Mustafa Alvar stated that their systems are developed with domestic resources. Underlining that they operate only in the defence industry and for amphibious land vehicles, Alvar said, "We are an engineering team working on propulsion systems, and since 2017, we have been specialising in a very niche area, namely only on water propulsion systems of amphibious land vehicles. As you know, armoured amphibious vehicles are either wheeled or tracked land vehicles weighing up to 30-35 tons. These vehicles can hardly move with their tracks and wheels once they enter in water, and they need a system that will take them through the water. In addition to developing water propulsion systems for all types of amphibious vehicles, we conduct analysis activities for the hydrodynamic performance of vehicles and offer a turnkey service by providing all auxiliary accessories.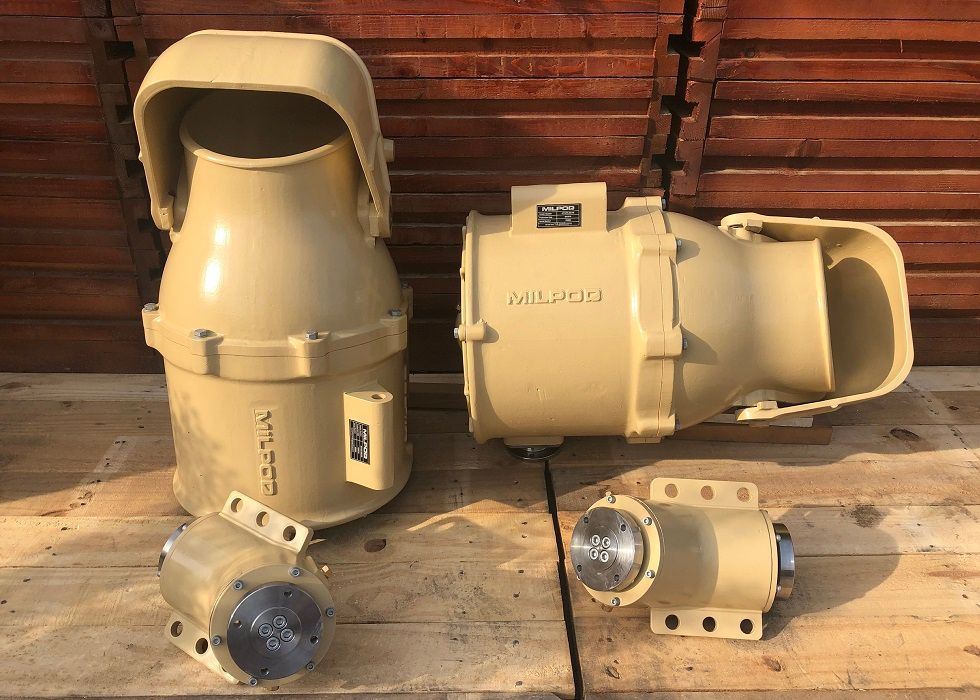 Stating that there are many variations of such vehicles and they have different operational needs, Alvar said, "There are many different types that can carry personnel, build bridges, have high impact power with their weapons, or land at high speeds by landing from the ship. The needs, powers and speeds of each in the water are variable. There are different power sources; for example, they can be driven mechanically or hydraulically. The important thing for us is to ensure that he can move safely at the desired speed after entering the water."
Underlining that they are the only company working on this issue in Turkiye and that they have few competitors abroad, Alvar continued his words as follows: "There are different types of propulsion systems used in amphibious land vehicles. Each of our competitors abroad only works on the one type of product they have developed. We have propulsion systems in our product range that can be used in water. Podded propeller systems, linear water jets, mixed flow linear jets or pump jets are some of them. Our competitors have no special interest or expertise in amphibious vehicles. They adapted the products they developed for naval platforms to amphibious vehicles and tended to sell these ready-made products. We do not sell "off-the-shelf products". We develop products designed for all types of amphibious vehicles to meet the specific needs of our customers. We have developed a modular design infrastructure in-house. Therefore, instead of buying any shelf products, our customers encounter a supplier that they can find solutions to the needs of their projects, and therefore they prefer us."
Providing information about the countries they export to, Alvar said, "In addition to Spain, Slovakia and Ukraine in Europe, India and Thailand in Asia are the countries we are currently working with, and we are negotiating with many different countries for the projects planned to be realised."
Stating that they are trying to compete with quality, not only with price advantage, Alvar said, "Although we have competitors from North America and Europe, we are preferred not because of the price advantage, but because we can meet all the demands of our customers in this field by combining our engineering power with our flexible and agile processes. The defence industry has high expectations and long product and project development processes. With the projects we have been involved in since the concept design, including analysis, verification, product development, configuration management and logistic support, firstly for the land vehicle manufacturers we serve in Turkiye, and then for our foreign customers we are solution partners, our products are now used both in environmental tests and in qualification. The fact that it has been proven in its tests allows us to be mentioned in more projects. The fact that many of our customers have our products on their vehicles at the fairs they attend contributes to our awareness. We also use our expertise and intellectual capital in this field to develop an innovative propulsion system for unmanned naval vehicles, which has no precedent in the world, in a globally promising new field for Turkiye."