Turkish Navy's Floating Dock in the Inventory
The 10,000 tons of Floating Dock Project contract was signed on 2nd August 2018. The ''Keel Laying Ceremony'' of the floating dock was carried out on 6th February 2019. The dock is built ASFAT and HAT-SAN Shipyard.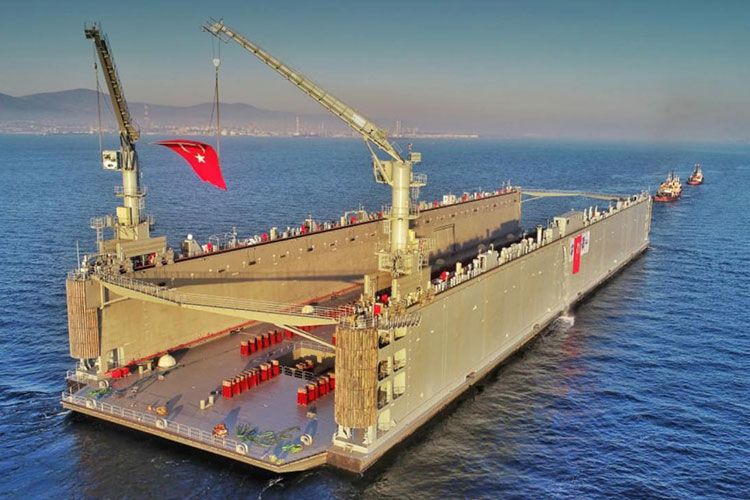 The floating dock will serve to the future platforms of Turkish Naval Forces. The dock has a lifting capacity of 10,000 tons. The overall length of the floating dock is 175,60 meters, and the inner width is 35.54 meters. The floating dock can dive or floats within 1 hour. It has two electro-hydraulic types of mobile cranes. Cranes can carry 10 tons of load 10 meters/minute.
Turkish indigenous Landing Ship Tank TCG Bayraktar (L-402) is the first ship docked. Anadolu Shipyard (ADİK)has built TCG Bayraktar. The vessel has 138.75 m (455 ft 3 in) length and a 19.6 m (64 ft 4 in) beam. The ship was commissioned in 2017.
The purpose of the floating dock
The floating dock may sail to most places. Every ship needs some maintenance. The part that is below surface needs more attention, but it requires a dry environment. In a dry environment, some repair work can be realised, or paint can be applied. For such operations, the ship will enter into the dock and be "parked" to provide working conditions.