Turkish Navy Gets its Second Logistic Support Ship
STM Defence shared the status of ÜTĞM. ARİF EKMEKÇİ (A-575) Logistic Support Ship. The company stated that the vessel is at sea for acceptance tests.
This is the second ship in its class. The first ship was TCG YZB. GÜNGÖR DURMUŞ (A-574) was delivered to the Turkish Navy on 8 December 2021.
The project includes exceptional failures of the Turkish Defence Industry. A contract was signed between the Defence Industry Agency (SSB) and Selah Shipyard in 2014. The Selah Shipyard was supposed to deliver two ships in 18 months. But the shipyard was bankrupted even though the ships were constructed.
SSB and STM A.Ş. signed a contract on 9 February 2021 to complete the project for the construction and delivery of two Logistics Support Ships to the Turkish Navy. The remaining part is completed at ADA Shipyard.
The TCG YZB. GÜNGÖR DURMUŞ (A-574) was supposed to be delivered to the command in 2018. It is delivered with three years delay while the ÜTĞM. ARİF EKMEKÇİ (A-575) is scheduled for delivery in the first quarter of 2024.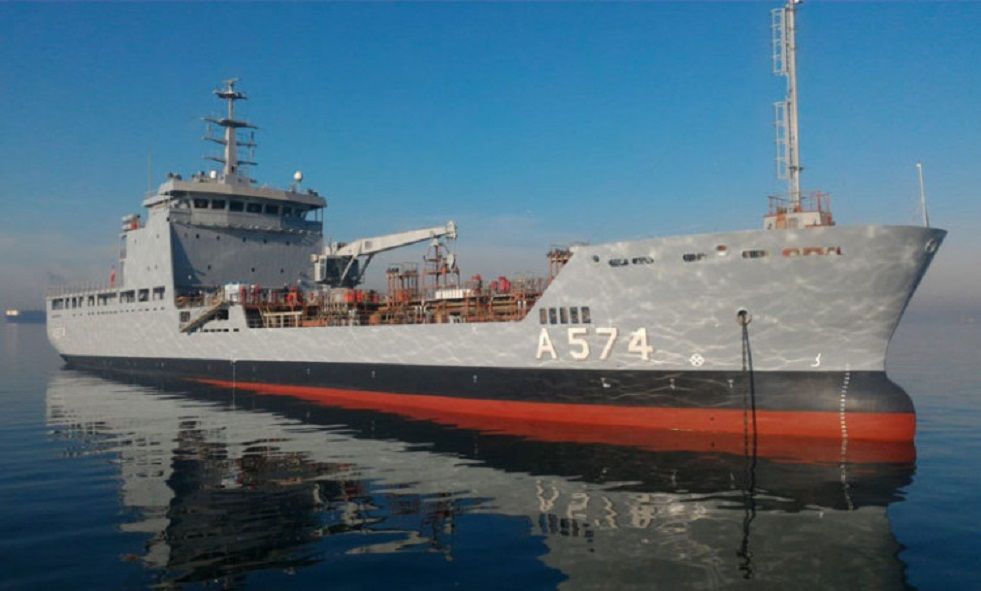 The Turkish Naval Forces' supply and logistics capabilities are set to be significantly improved thanks to a project that involves the construction of a logistics support ship. The ships, which have a length of 106.51 metres and a beam of 16.80 metres, will have a crew of 82 people and will be equipped with a helipad capable of supporting a 15-ton helicopter.
The vessels have a cruising range of 9,500 nautical miles and can sail at over 12 knots. Additionally, the vessels are armed with two 12.7 mm ASELSAN STAMP RCWS. They are also equipped with cranes with a lifting capacity of 18 tonnes, can carry eight containers and hold 631 tonnes of drinking water, 336 tonnes of JP-5 helicopter fuel, and 4,036 tonnes of F-76 fuel.