The First Batch of Qatari Eurofighter Typhoon Aircraft landed at Tamim Air Base
On August 27, 2022, Amir Tamim bin Hamad Al Thani witnessed the arrival of the first batch of Eurofighter Typhoon aircraft. According to Qatar News Agency, the Eurofighter Typhoon aircraft would be deployed as part of a squadron with F15-QA and Rafale planes to provide security during the World Cup in Qatar at the end of the year.

The QEAF ordered 24 Typhoons and nine Hawk Mk167 jet trainers in 2017.
A ceremony was held at Tamim Airbase, where one Typhoon, two Dassault Rafale, two Boeing F-15QA jets, and two QEAF NH90 NFH helicopters were displayed.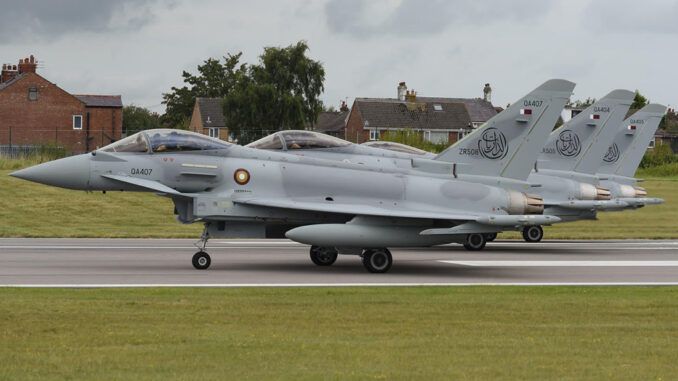 Al Thani was accompanied by Dr Khalid bin Muhammad al-Attiyah, Deputy Prime Minister and Minister of State for Defence Affairs, Staff Lieutenant-General (Pilot) Salem bin Hamad bin Aqeel al-Nabit, Chief of Staff of the Qatar Armed Forces, Major General Pilot Jassim Muhammad al-Mannai, Commander of the Qatar Emiri Air Force, and several senior officials.