The main contractor of the ship, STM Defence, shared on social media that the TCG Istanbul frigate started its Sea Acceptance Tests (SAT) as the flag was hoisted on the vessel.
Turkiye's first domestically designed and constructed frigate TCG Istanbul's design is based on the experience gained from Ada Class Corvettes. Both İstif Class frigates and Ada class corvettes are part of the Turkish National Ship Programme, MİLGEM.
İstif Class Frigates are equipped with Network Supported Data Integrated Command and Control Systems, sensors and weapons to accomplish mainly Anti Air Warfare and Anti-Submarine Warfare and Anti-Surface Warfare missions.
TCG İstanbul's keel was laid down on 19 January 2017, and the ship was launched on 23 January 2021 by Naval Shipyard in Istanbul. Following Sea Acceptance Tests, the vessel with pennant number F 515 is expected to be commissioned on 6 September 2023.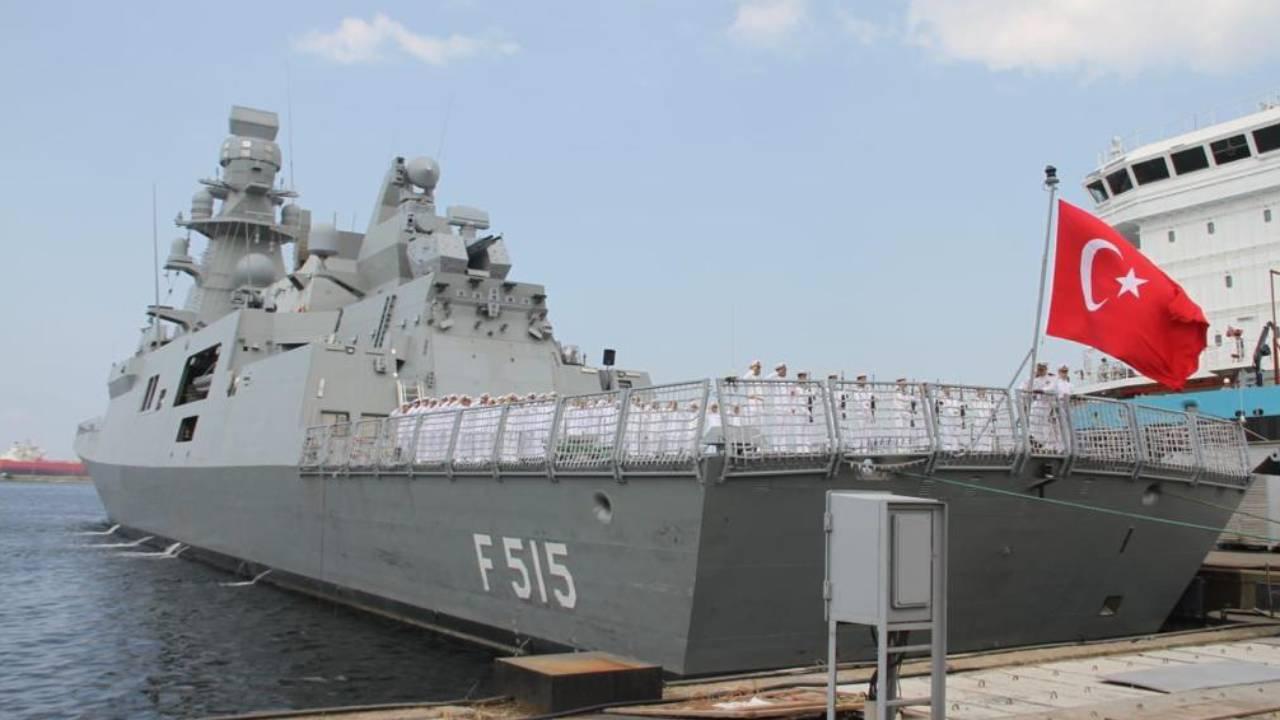 According to MİLGEM Programme, four İSTİF Class Frigates will be procured for the Turkish Navy, and the other three ships will be built by STM-TAİS Joint Venture at SEFİNE, ADİK and SEDEF Shipyards will take part. They will be the 6th, 7th and 8th Ships of the MİLGEM Procurement Project. The ships, which will be built simultaneously in three different shipyards, are planned to be delivered to the Turkish Navy in a 36-month calendar after Factory, Harbour and Sea Acceptance Tests.
The ship's entire sensor and weapon systems are developed in Turkiye and the ship will also be equipped with again national air defence capabilities. In addition, nationalisation activities will continue in many areas, such as the Naval Gun, Helicopter Capture System and various components of the Main Propulsion System.
TCG İstanbul is equipped with a 76mm Super Rapid Sea Cannon supplied by Leonardo Company. MKE production cannons will be used in the ongoing construction of three ships. The ship will have the 16-cell Vertical Launcher System (MIDLAS). The first firing test with MIDLAS was conducted in December 2022 at the Aksaray Firing Range using the HİSAR-D RF Missile.
The 16-cell Mk-41 VLS was initially planned to be used on the TCG Istanbul Frigate, and the SSB commissioned ROKETSAN to supply the Mk-41 VLS from the USA. A contract was signed between SSB and ROKETSAN on 14 February 2018 for the supply of four Vertical Launch Systems (VLS) for ISTIF Class Frigates. However, after purchasing the S-400 Triumph Air Defence Missile System, the USA applied CAATSA to Turkiye, and the Mk-41 VLS was not supplied. In response, ROKETSAN developed the MIDLAS. It was announced that the HİSAR-D and ESSM (Evolved SeaSparrow Missile) B1 and B2 Missiles could be used with the 16-cell Vertical Launch System (MIDLAS). Roketsan continues developing the system.
General Characteristics of TCG Istanbul
| | |
| --- | --- |
| Displacement | 3,000 tons |
| Length | 113.2 m (371 ft 5 in) |
| Beam | 14.40 m (47 ft 3 in) |
| Draught | 4.05 m (13 ft 3 in) |
Speed
| | |
| --- | --- |
| Economy | 14 kn |
| Maximum | 29 kn |
| Range | 6,570 nmi at 14 kn |