Navantia Launches 4th Saudi corvette, Jazan 834
You may prefer to listen the news
Spanish shipyard has held a ceremony at the San Fernando shipyard. The Commander of the Royal Saudi Navy, Vice Admiral Fahad Bin Abdullah Al-Ghofaily; the Chief of Staff of the Spanish Navy Admiral General Antonio Martorell Lacave; the president of the State Industrial Participation Society (SEPI), Belén Gualda; the president of Navantia, Ricardo Domínguez; the Vice President of Saudi Arabia Military Industries (SAMI), Wael Alsarhan and other officials attended the ceremony.
Jazan is the fourth of five corvettes constructed within the project of Sarawat of Saudi Arabia.
The Jazan has a length of 104 meters, a beam of 14 meters, and can accommodate 102 people (crew and additional personnel). It will reach a maximum speed of 27 knots and, among other aspects, it can carry 21 days' supplies on board.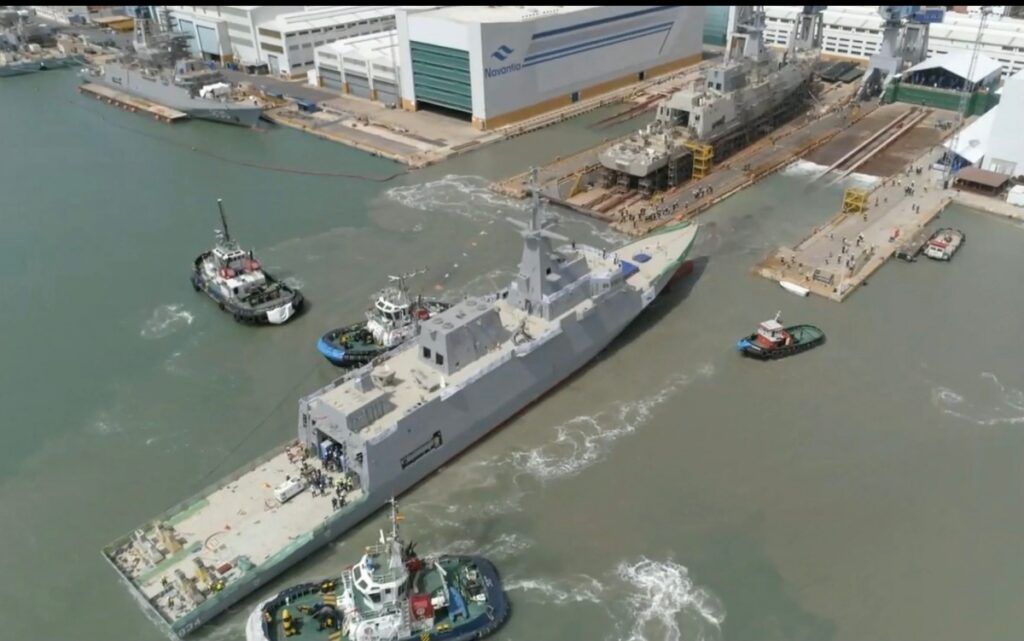 The design of the corvettes is of the latest generation, maximizing the participation of Navantia by incorporating its products, such as the CATIZ Combat System, the HERMESYS Integrated Communications System, the DORNA Firing Direction, the Integrated Platform Control System and the MINERVA Integrated Bridge, together with other equipment developed by Navantia under licenses, such as the MTU Engines or the RENK Reduction Gearboxes.
On July 12, 2018, the Government of Saudi Arabia had signed a contract to construct five corvettes, an operation that reaches an amount of 1,8 billion Euros, the biggest one in the history of the public Spanish shipyards with a foreign client. The construction on the corvettes began in January 2019 at the San Fernando shipyard, and deliveries are expected to be completed by 2024. The launching of the first of the five Al-Jubail corvettes built for Saudi Arabia was held in July 2020.
The Al Jubail-class corvette is powered by a combined diesel and diesel (CODAD) propulsion system that includes four MTU 12V-1163-TB93 rated at 4,440 kW (5,950 hp) each driving two shafts with Wärtsilä 5C11 CP propeller. The ship can reach a maximum speed of 24 knots (44 km/h) with a maximum cruising range of 3,500 nautical miles (6,500 km) at 18 knots (33 km/h).
The Al Jubail-class corvette is armed with one Oto Melara 76 mm naval gun, one Oerlikon Millennium 35 mm Naval Revolver Gun System, and two 12.7 mm machine guns. She has a flight deck and a hangar able to accommodate one naval helicopter.
The contract also includes logistics support, operational and maintenance training, and life-cycle support at Jeddah Naval Base.