Meltem at Turkish Maritime
This long-term project is based on modifying and upgrading six ATR72-600 platforms to comply with the Turkish Navy requirements. The aircraft will fulfil Anti Submarine Warfare (ASW) and Maritime Surveillance/Reconnaissance missions. The first aircraft arrived at Turkish Aerospace's facilities on April 19, 2013.
The ATR 72 is a twin-engine turboprop, short-haul regional airliner developed and produced in France and Italy. The number "72" in its name is derived from the aircraft's standard seating configuration in a passenger-carrying configuration.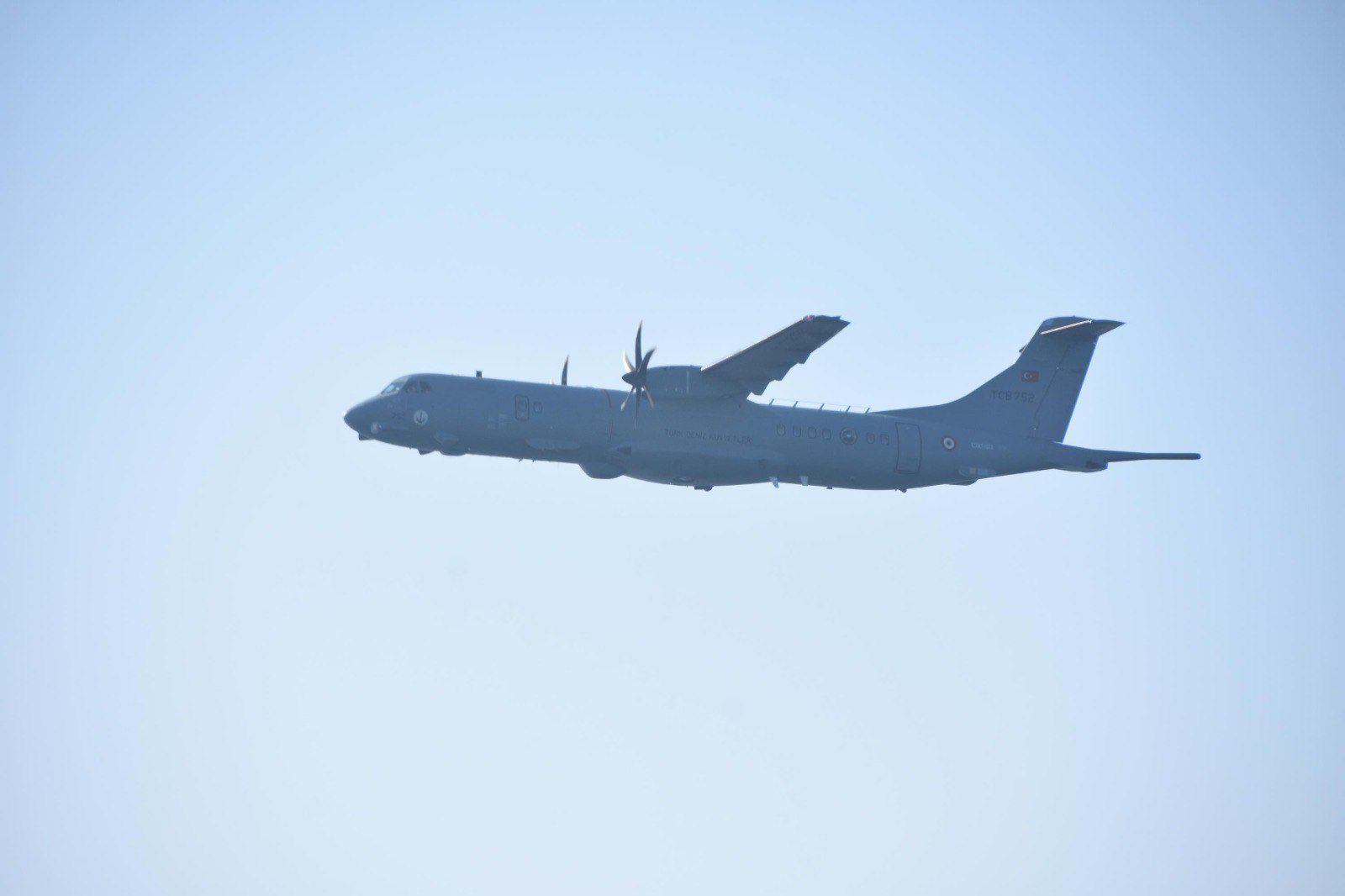 Within the project's scope, it was decided to become the main contractor of Alenia Aermacchi and the Turkish Aviation and Space Industry (TUSAŞ) to become a subcontractor. In this context, based on the agreement signed between Italian Alenia Aermacchi SpA and TUSAŞ in July 2012, structural and electrical refurbishment, system tests and Integrated Logistic Support activities of 6 ATR-72-600 Maritime Patrol Aircraft to be procured are carried out by TUSAŞ.
Leonardo ATR 72-600 aircraft was redesigned by Turkish Aerospace engineers and technicians with a brand-new concept to integrate relevant radar systems. The aircraft is to be used for air patrol operations by the Turkish Naval Forces and in areas such as underwater scanning and search and rescue.
The typical missions of this version include vessel search and identification, search and rescue (SAR), drug, smuggling and piracy control, environmental control (pollution by oil and chemical substances), maritime patrol roles, economic exclusive zone patrol (fishing, off-shore platforms), and Anti-Submarine Warfare.
The ATR 72ASW is equipped with AMASCOS maritime patrol mission system that includes:
•Electro-optical sensors
•Search radar (Ocean Master)
•ESM sensor (Electronic Support Measures)
•MAD sensor (Magnetic Anomaly Detector)
•Integrated self-protection system (Chaff & Flare Dispenser, Radar Warning, Missile Warning, Laser Warning)
•Sonobuoy launcher
•Anti-submarine torpedoes (Mk 46, Mk 54) carried on two pylons at the fuselage sides
The ATR 72ASW is equipped with new-generation communication systems. The data-link system connects in real-time with the ground command and control centres and other platforms, both on-air and on the sea, for coordination and maximum operations' effectiveness. Its ESM and MAD sensors are wholly integrated within the mission system. With the on-board avionics that envisages the new glass cockpit configuration, typical of the latest ATR 72-600 series.
The ATR 72ASW can also be reconfigured with additional specific systems and missile armaments to carry out anti-ship missions.
project final status, MELTEM 3 Maritime Patrol aircraft
Within the MELTEM-III Project scope, the first ATR-751-72 Naval Patrol Aircraft with the tail number TCB-600, which will be delivered to the Turkish Naval Command, arrived in TUSAŞ facilities in April 2020 for the final tests. It is expected that the delivery of the aircraft will take place in a short time.
ATR-72-600 Naval Patrol Planes will use the Mk-46 Mod 5 and Mk-54 Torpedoes as part of the submarine defence war (DSH) mission.
The AMASCOS-300 Airborne Maritime Situation Control System deployed at ATR-72/600 ASW/ASuW aircraft, featuring a total of four operator consoles (Radar Operator, Tactical Coordination Officer [TacCo], Acoustics Operator and Electronic Warfare (EW) and Communication Operator) and includes: Ocean Master 400 Search Radar with a range of 190nm, in 400W power and with SAR/ISAR/SPOT-SAR/STRIP-SAR/MMTI capabilities, the AselFLIR 200T FLIR System enabling the identification of surface contacts up to 35nm range, Sonobuoy Launcher, TMS-200 Active/Passive Sonobuoy Processing System (for the sonobuoys, capable of listening to 16 sonobuoys simultaneously), TCAS II Air Traffic Collision Avoidance System, DR-3000 Electronic Support Measures (ESM) [functions also as an RWR), AN/ASQ-508(V) Magnetic Anomaly Detector (MAD) with an antenna length of 4.5m and an antenna weighing nearly 50kg, Link-11/Link-16 Tactical Data Link Systems, LN-100G INS/GPS, ARS-700 Airborne Rescue System, APX-113 IFF System and Aselsan's ASES-235 EW Integrated Self-Protection System containing the AN/AAR-60 MILDS MWS and four AN/ALE-47 CMDS Launchers. Three million lines of software were developed for the real-time AMASCOS-300 Mission System within the program's scope. The Ocean Master 400 Radar with a mechanically rotated antenna array can detect a submarine periscope from a 30nm range and an altitude of 1,000ft under favourable weather conditions, and a patrol boat from a 90nm range and 6,000ft altitude within an area of 100 square meters.