Koluman Makes International Debut with 'Derman' at DSEI
Koluman Otomotiv Industry Inc., which produces logistics support vehicles within the Turkish defence industry, showcased the DERMAN 8X8 vehicle at DSEI 2023. The Derman 8X8 is the first entered in the military's inventory recently. The vehicle was displayed at international markets for the first time during the Defence and Security Equipment International (DSEI) 2023.
Zafer Özcan, Head of Defence Division at Koluman Otomotiv, spoke to Anadolu Agency and recalled that the company had signed onto the 8X8 Wheeled Container Carrier Vehicle (DROPS) Project with the Defence Industry Agency (SSB) for DERMAN and stated that the Koluman Otomotiv had delivered the first seven vehicles of the 70-vehicle project.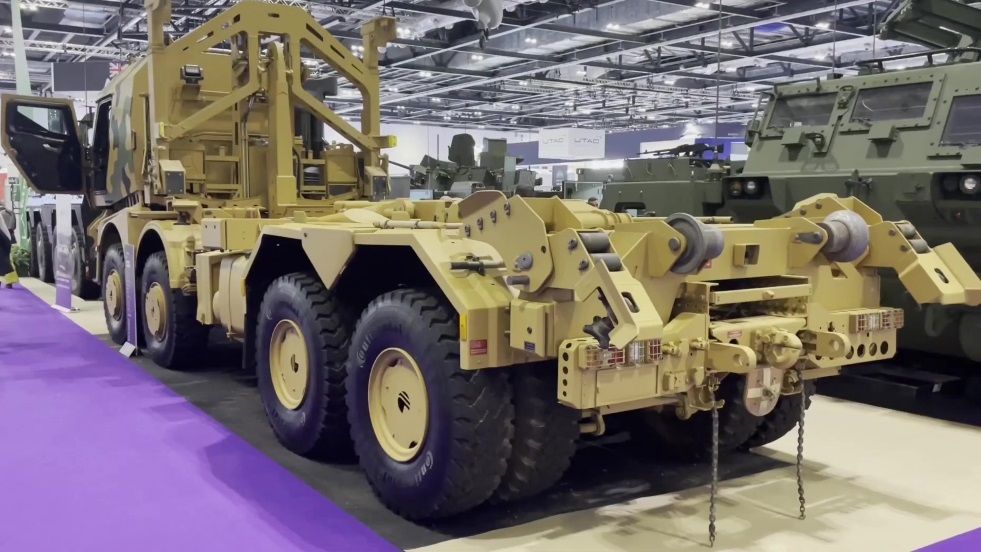 He emphasised that the first goal was to enter the TSK inventory before expanding into international markets. "We are pleased to have accomplished this," Özcan said. The Turkish army is an essential force in NATO. As a result, when you travel abroad, one of our most important references becomes the vehicles delivered to the armed forces."
According to Özcan, the company has been involved in the defence industry for many years and has begun to position itself in the logistics support vehicle segment, particularly since 2017.
Özcan elaborated on the goal of developing a vehicle design capable of carrying heavy loads and, ideally, providing services to multiple support vehicles on a common platform, stating that DERMAN resulted from this development process.
He said the company also signed a contract with the SSB for armoured fuel tankers known as AKTAN.
Özcan stated they would be in Germany next month, participating in a Daimler event as an Original Equipment Manufacturer (OEM).
Özcan stated that one of the most important goals will be to produce the prototypes of the armoured AKTAN Project, highlighting that the plan is to ship all 70 vehicles of the DROPS Project in the first quarter of 2024.
"In terms of exports, we have positioned ourselves particularly in the Eastern European market," Özcan said of DERMAN. Due to certain conflicting situations in neighbouring countries, there has been a significant increase in interest in such vehicles in recent times."
"We also worked on various prototype activities for DERMAN with Roketsan." In one of our projects, we developed a vehicle with a carrying capacity of more than 50 tonnes. "We anticipate delivering it soon," he said.