Hisar and ATMACA will be the first "guests" of Turkish VLS
You may prefer to listen the news
Turkey wanted to use the US-made MK-41 VLS on the MİLGEM fifth ship. However, according to Köse's statement, export permission was not issued. The agreement was signed with Roketsan. The Mark 41 Vertical Launching System (Mk 41 VLS) is a shipborne missile canister launching system that provides a rapid-fire launch capability against hostile threats. The Mk 41 is capable of firing many missiles from the same canister. This feature means ambiguity about the missile stationed. This feature adds extra mystery about the missile ready to be fired.
Moreover, it can fire the missile 360 degrees around the ship, which gives no details about the missile firing through the ship's manoeuvre. The following missiles can be fired from MK 41 VLS: RIM-66 Standard, RIM-67 Standard, RIM-161 Standard Missile 3, RIM-174 Standard ERAM, RGM-109 Tomahawk, RUM-139 VL-ASROC anti-submarine missile, RIM-7 Sea Sparrow anti-air missile, and RIM-162 ESSM. The MK 41 may host missiles up to 7.7 m in length used for the strike version.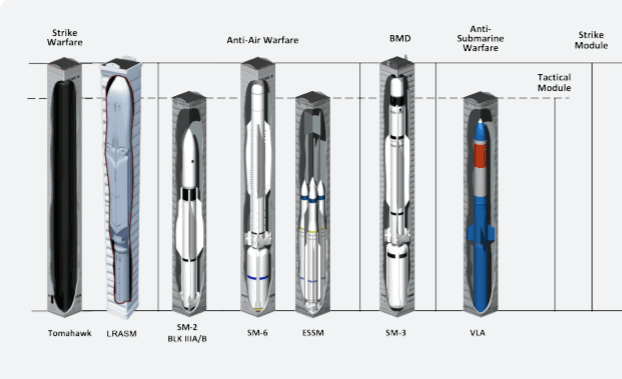 The Turkish vertical launch system announced as the National Vertical Launch System (Milli Dikey Atış Sistemi / MDAS) will have similar dimensions to MK 41. It will, however, be able to launch missiles up to 8 meters in length. Under the current programme, the system will be launching all versions of vertical launched surface to air defence missiles (Hisar A, A+, O, O +, Hisar RF) The system may include Siper in future. Atmaca anti-ship missile and cruise missile Gezgin will also be launched from the same canister.