Greek Navy May Prefer FFG-62 Constellation-Class Frigates
The publication states that the Hellenic Navy contacted the U.S. Navy to acquire two Constellation Class Frigates. The navy is waiting for the initial positive response to proceed to follow the procedures required to start a negotiation.
If the attempt receives a positive response, the corvettes will not be purchased from France or Italy.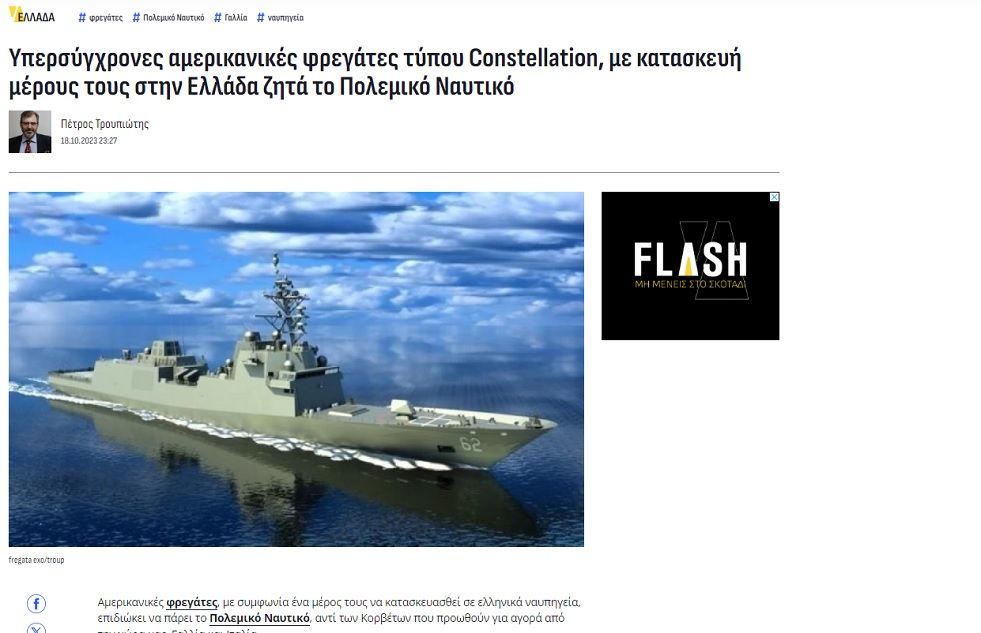 The publication reports that the Constellation Class frigates' cost is almost the same as the cost of the offered corvettes. The price can be significantly reduced if it is agreed to build them in the Greek shipyards.
The U.S. side does not (like the French and Italian) ask for an advance payment with the order, but instalments over time, which is very convenient for the Greek side, as it postpones their payment after 2026-2027.
The FFG-62 Constellation frigate is based on the designs of the FREMM frigates, and they are built in the Fincantieri U.S. shipyards at full load. It has a displacement of 7400 tons, a length of 152 meters and a width of 19.8 meters.
According to information from open sources, the cost of building the ship is about $1 billion, and Fincantieri U.S. shipyards can simultaneously build two ships a year.
The context of the strategic cooperation between Greece and the U.S. allows the construction of the frigates in a Greek shipyard.