Görgün Decided About His New Team-Play

Five vice presidents, who will work with Defence Industry Agency (SSB) President Professor Haluk Görgün, were previously appointed. These names are: Professor Hakan Karataş, Gökhan Uçar, Mustafa Murat Şeker, Professor İhsan Kaya, Hüseyin Avşar.
In the new term, the duties of the Vice Presidents and their subordinate departments are determined:
Professor Hakan Karataş is Vice President of Corporate Development and Values. Four departments will be subordinate to Karataş. These departments are Personnel and Training, Corporate Management and Coordination, Administration and Finance, and Defence Industry Academy. Turdef learned the new organisation chart.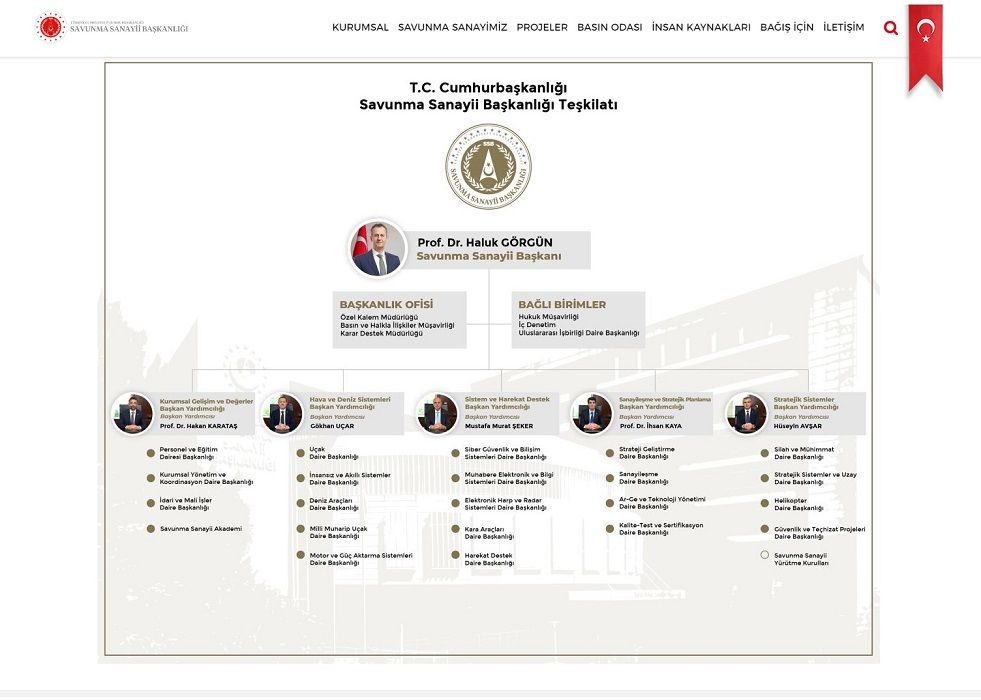 As Vice President of Air and Naval Systems, Gökhan Uçar will be responsible for five departments. These departments are; Aircraft, Unmanned and Smart Systems, Naval Platforms, Turkish Fighter Aircraft, and Engine and Power Transmission Systems.
Mustafa Murat Şeker will serve as System and Operations Support Vice President. Five departments will be connected to Şeker. These departments are; Cyber Security and IT Systems, Communications, Electronic and Information Systems, Electronic Warfare and Radar Systems, Land Platforms, and Operations Support.
Professor İhsan Kaya will be responsible for four departments as the Vice President of Industrialisation and Strategic Planning. These departments are; Strategy Development, Industrialisation, R&D and Technology Management, Quality Control Test and Certification.
Hüseyin Avşar will serve as the Vice President of Strategic Systems and manage four departments. These departments are; Weapons and Ammunition, Strategic Systems and Space, Helicopters, Security and Equipment Projects and Defence Industry Boards.
During the Görgün period, changes were made in addition to the new vice presidents and duties. Accordingly, a presidential office was established. There will be a Private Office of the Defence Industry Agency, a Press and Public Relations Consultancy, and the Decision Support Directorate. Under the President, there will be Legal Department, Internal Audit and International Cooperation Department.
The new structure shows that the industrialisation strategy is planned as subordinate to the vice president, and the International Cooperation department, which was previously attached to the vice president, is now subordinate to the SSB President. This change shows that the priority is shifting from industrialisation to exports and international relations.
While there will be no change in the number of Vice Presidents and affiliated departments, the Head of the Corporate Governance and Coordination Department, which previously served directly under the President, will work under Professor Hakan Karakaş.