Global Military Expenditure Increases, Turkiye's Decreases
According to the Stockholm International Peace Research Institute (SIPRI), overall global military spending would rise by 3.7 per cent in real terms in 2022. It amounted to $2240 billion. Military spending in Europe increased dramatically over the last 30 years. The United States, China, and Russia, the three largest spenders, accounted for 56 per cent of global spending. The Invasion of Ukraine and tensions in East Asia are the main reasons for the increased spending.
Countries that fear Russian invasion, Finland (+36 per cent), Lithuania (+27 per cent), Sweden (+12 per cent), and Poland (+11 per cent), have increased their expenditure. Russia's military spending increased by 9.2 per cent in 2022 to around $86.4 billion.
The United States remains the world's largest military spender by far. In 2022, US military spending will hit $877 billion, accounting for 39 per cent of worldwide military spending and three times that of China, the world's second-largest spender. The 0.7 per cent real-term growth in US spending in 2022 would have been much bigger if inflation had not reached its most significant level since 1981.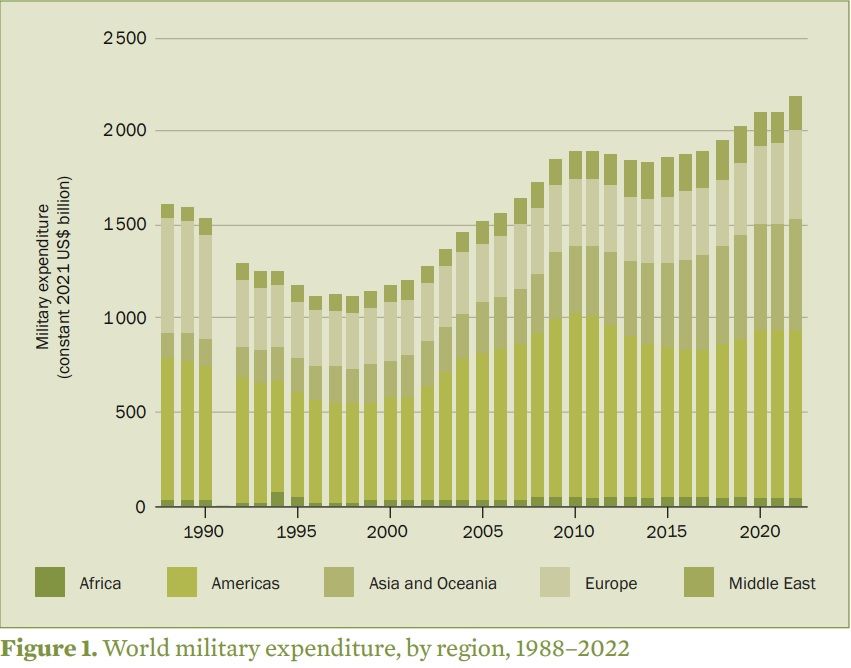 India is the fourth largest spender in the world, with $81.4 billion. It was 6.0 per cent higher than in 2021.
Saudi Arabia, the world's fifth largest military spender, increased its military spending by 16 per cent in 2022 to an estimated $75.0 billion, the first rise since 2018.
Nigeria's military budget declined by 38 per cent to $3.1 billion, following a 56 per cent surge in spending in 2021.
NATO nations' military spending was $1232 billion in 2022, a 0.9 per cent increase over 2021.
The United Kingdom had the greatest military spending in Central and Western Europe, at $68.5 billion, with an estimated $2.5 billion (3.6 per cent) going to Ukraine.
Turkiye's military budget declined for the third year in a row in 2022, hitting $10.6 billion, a 26 per cent decrease from 2021.
Ethiopia's military spending will increase by 88 per cent in 2022, reaching $1.0 billion.