FNSS Initiates ACV-15 AAPC and Delivers MAV
FNSS held a ceremony at Gölbaşı facilities with the participation of the Ministry of Defence, Defence Industry Agency, Turkish Armed Forces and defence sector representatives, and the "Advanced Armoured Personnel Carriers (AAPC) Modernisation Project" contract was signed between the SSB and FNSS.
FNSS is awarded a contract to enhance the capability of Advanced Armoured Personnel Carriers (AAPC) and to extend their life in the inventory of the Turkish Land Forces. Within the scope of this contract, several AAPCs will be equipped with modern subsystems by maintaining their amphibious capabilities. AAPCs that will be upgraded are ACV-15 configurations delivered to the Turkish Armed Forces in the early 2000s by FNSS. The programme is aimed to increase the vehicle's performance, capabilities and life cycle for an additional 20+ years.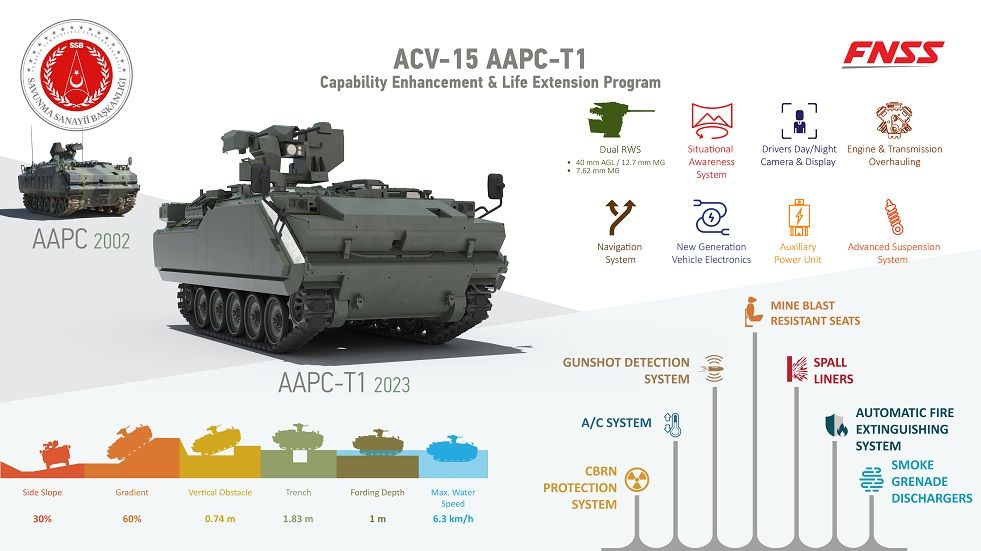 Due to emerging threats and new technologies on mission equipment and weapon systems, it is aimed to upgrade AAPCs with selective equipment and systems. FNSS package covers upgrade areas such as improvements in mobility, protection levels, life support, electronic systems, situational awareness and firepower. Within the scope of the capability enhancement programme, the vehicles will be fitted with a dual gun remote-controlled weapon system with a close-range surveillance system, auxiliary power unit (APU), automatic fire suppression system, A/C system, spall liners, driver vision system and navigation system. In addition, necessary engineering efforts will be carried out to integrate the gunshot detection system. A complete vehicle overhauling, including engine and transmission, will also occur under the contract's scope.
All of these reliability and durability enhancements will expand mission capabilities while reducing maintenance services during operational deployments. FNSS has formerly conducted similar modernisation programmes for armies such as Türkiye, Saudi Arabia, the USA, Bahrain and the Philippines. FNSS offers solutions for vehicle sustainability programmes based on user requirements and specifications. The company recently started delivering modernised ACV-15 IFV platforms to the Turkish Army under the ACV-15 capability enhancement and life extension programme contract.
FNSS' capability enhancement and life extension solution represent significant upgrades to the military platform by extending the service life of the vehicles and ensuring that the vehicles remain an effective and relevant asset for modern combat requirements.
With the contract signed between SSB and ASELSAN in 2019, some M113 APC-15 platforms in the TAF inventory were also modernised.
Within the project's scope, the main contractor ASELSAN provided the 25mm NEFER Weapon System, Laser Warning System, Close Range Surveillance System, Driver Vision System, Direction Finding and Navigation System. FNSS undertook the renovation and improvement activities for the platform.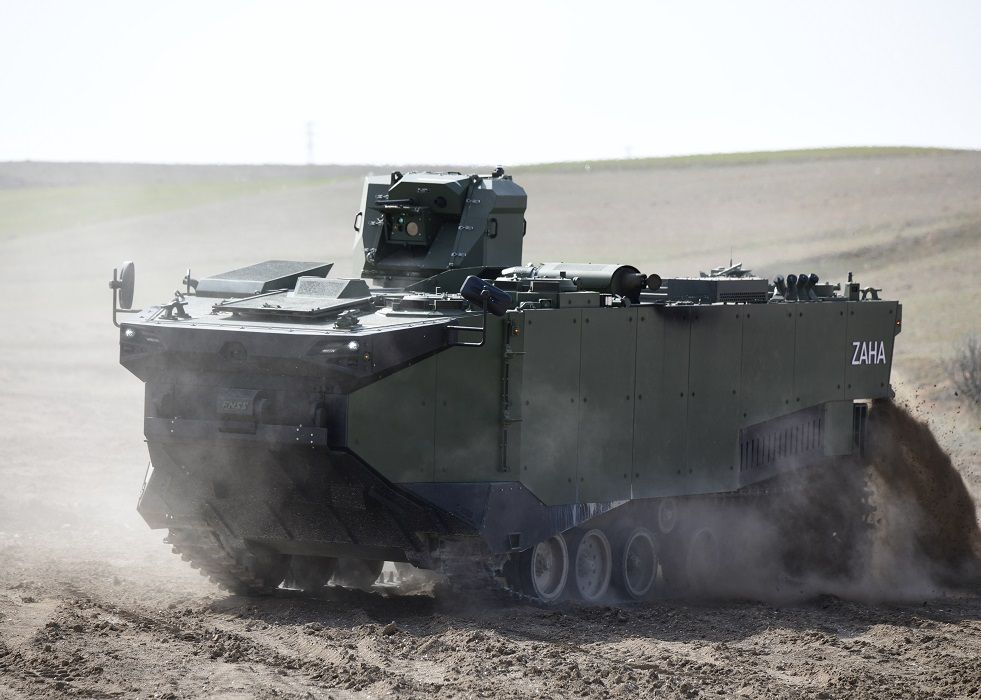 MAV is officially in the inventory
The first delivery of the Armoured Amphibious Marine Assault Vehicle (MAV) to the Turkish Naval Forces Command, was announced on March 25, 2023. The MAV will be deployed at Amphibious Marine Brigade. The vehicle is developed within the scope of the SSB programme to meet the amphibious armoured vehicle needs of the Turkish Naval Forces Command. FNSS will deliver 27 vehicles, 23 of which are personnel carriers, two command and control vehicles and two recovery vehicles.
MAV has a higher ballistic and mine protection level compared to its predecessors and is equipped with today's modern mission equipment. Dual role by definition, the MAV offers high performance both on land and water operations. FNSS's capability in the inventory is limited to a few countries. FNSS is the only supplier in NATO within an operating production line to produce the type of vehicles.
MAV outperforms its predecessors in terms of the following;
• Number of personnel to be transported in the vehicle
• Performance criteria to be met on land and in water
• Ballistic and mine protection level
• New generation remote-controlled turret
MAV is fitted with a ÇAKA Remote Controlled Turret, which can carry a maximum load of ready-to-fire rounds and ballistic protection. FNSS ÇAKA RWS offers some advantages: lightweight, better protection for the gunner, target acquisition, automatic target tracking, stabilisation, reliability, accuracy and increased useable volume inside the vehicle.
MAV have all the features and capabilities of a land vehicle and a marine vessel by balancing the land and sea requirements. FNSS is breaking new ground with MAV, the first and only amphibious vehicle in the Turkish Armed Forces inventory capable of self-righting in case of capsizing and operating at sea in harsh weather conditions. The vehicle can conduct operations at sea situation four.
SSB President Professor İsmail Demir and FNSS CEO Nail Kurt delivered some speeches at the ceremony.
Kurt reminded the KAPLAN MT (HARIMAU), developed jointly by FNSS and PT Pindad as part of a Defence Industry Co-operation Agreement signed between Turkiye and Indonesia. Kurt stated that FNSS is ready to supply Turkiye if Turkish Armed Forces show interest in tanks. Turkish Land Forces have M60 and Leopard Main Battle Tanks in the inventory. The 30-ton KAPLAN MT is equipped with John Cockerill 105 mm turret that uses all NATO-Standard 105 mm Tank Ammunition. Such tanks are used as artillery support to infantry /cavalry missions.
SSB President Demir stated that any Turkish defence company that brings technology and support to the Turkish defence industry is considered a Turkish defence company even though it has foreign partners like FNSS. Nurol Holding and BAE Systems are shareholders of FNSS Savunma Sistemleri A.Ş. where Nurol Holding has more shares.