China Temporarily Limits UAV and its Subcomponent Exports
Chinese Commerce Ministry announced on July 31, 2023, stating the limitations for the export of UAV subcomponents. Announcement number 28 concerns the "Export Control Law of the People's Republic of China" to safeguard national security and interests. With the approval of the State Council and the Central Military Commission, the ministry decided to implement specific unmanned aerial vehicles Temporary Export Controls. The new regulation limits the UAVs that can fly beyond the operator's natural sight distance, the maximum endurance time is greater than or equal to 30 minutes, and the maximum take-off weight is greater than 7 kilograms or the empty weight is greater than 4 kilograms.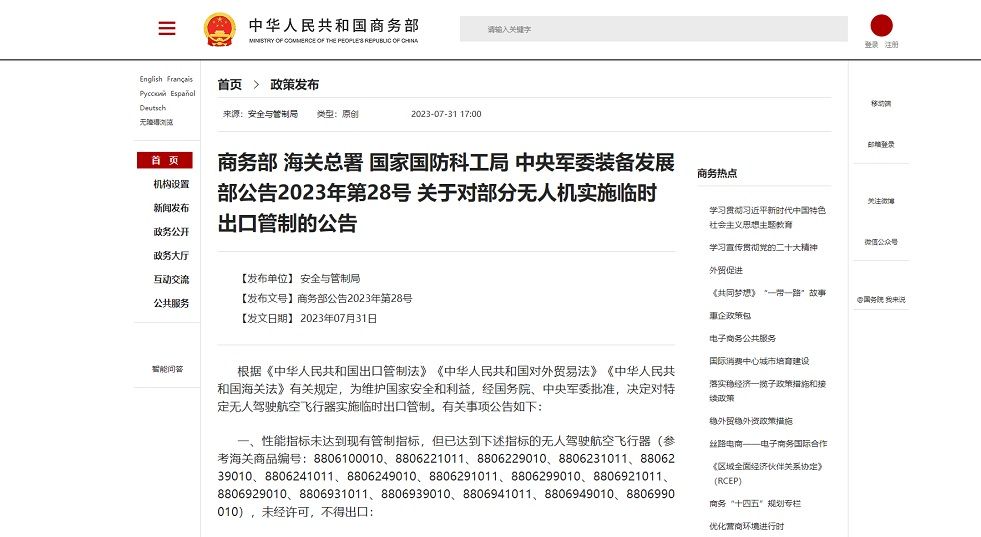 The limitation also indicates specific features, such as the power of airborne radio equipment, which exceeds the power limit value of international civilian radio product approval and certification. If it can carry a payload and has a throwing function for the payload or brings its own throwing device; If it can carry a hyperspectral camera or a multispectral camera that supports bands other than 560 nanometres (nm), 650 nanometres (nm), 730 nanometres (nm), and 860 nanometres (nm); If the noise equivalent temperature difference (NETD) of the infra-red (IR) camera carried is less than 40 millikelvin (mK); The regulation also brings laser devices for range finding and navigation, including using the laser as a diverted energy weapon. The UAV will not support non-authenticated payloads. The products that exceed the limits will be subjected to the proliferation of weapons of mass destruction and terrorist activities or for military purposes. The announcement will be effective as of September 1, 2023. The implementation period of temporary control will be limited to two years.