China fires Defence Minister Li Shangfu
According to U.S.-based TV broadcasting CNN, the Chinese defence minister became the second prominent minister to lose his post recently without any official explanation. Li was also removed from his position as a member of the Central Military Commission.
Li, appointed defence minister in March, has not been publicly seen since late August. This sparked intense speculation about his fate. The general's disappearance follows a series of unexplained personnel shakeups that have rocked the country's top ranks, including the dramatic firing of former Foreign Minister Qin Gang in July.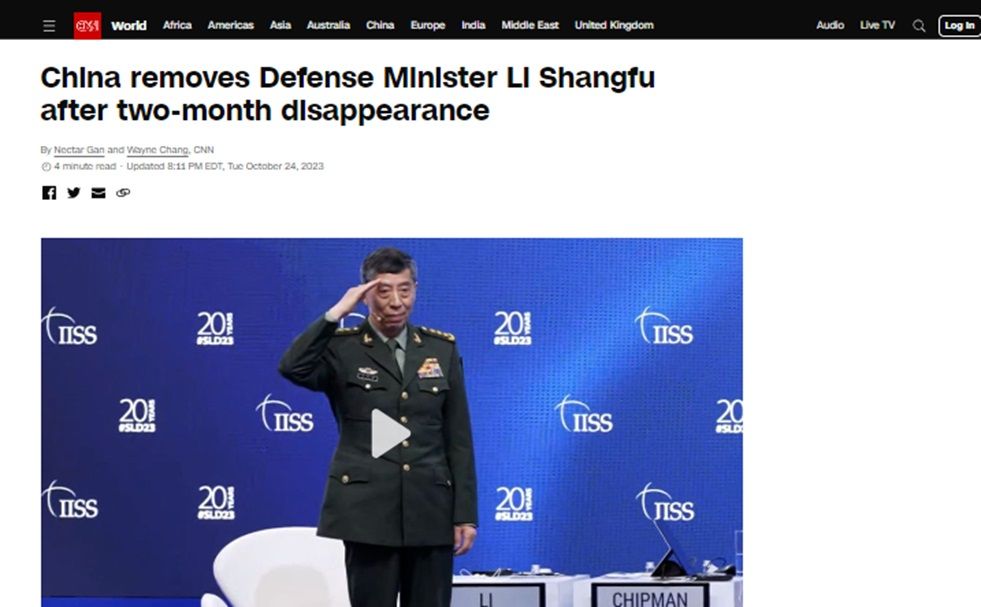 Li was sanctioned by the U.S. in 2018 over arms purchases from Russia. Beijing has repeatedly stated that the U.S. Secretary of Defence will not meet with Li unless the sanctions are lifted.
Weeks before Li disappeared from public view, Xi gathered the military top brass in Beijing for a meeting, where he emphasized the party's political loyalty, discipline and "absolute leadership" over the armed forces.
Xi fired two top generals of the PLA Rocket Forces a few days after the meeting. It is an elite unit that oversees the country's nuclear and ballistic missile arsenals, sparking fears of a broader purge within the military.
The Chinese government has repeatedly refused to comment on Li's whereabouts and why he was absent. When asked whether Li was under investigation last month, a Foreign Ministry spokesperson said she was unaware of the situation.
The Financial Times also reported that the U.S. government believes the defence minister has been investigated, citing American officials. Neither report stated the reason for the investigation.
The Wall Street Journal reported that authorities took Li away in September for questioning, citing a person close to decision-making in Beijing.