Australia getting Sikorksy's MH-60H Helicopters for Almost $1 Billion
The Government of Australia has requested to buy 12 MH-60R Multi-Mission helicopters; 30 T-700-GE-401C engines (24 installed, 6 spares); 12 APS-153(V) Multi-Mode Radars (installed); 12 AN/AAS-44C(V) Multi-Spectral Targeting Systems (installed); 34 Embedded Global Positioning System/Precise Positioning Service (GPS/PPS)/Inertial Navigation Systems (EGI) with Selective Availability/Anti-Spoofing Module (SAASM) (24 installed, 10 spares); 20 Link 16 Multifunctional Information Distribution Systems (MIDS) – Joint Tactical Radio System (JTRS) (12 installed, 8 spares); 12 GAU-61 Digital Rocket Launchers (aircraft provisions only); 12 Airborne Low Frequency Sonars (ALFS) (aircraft provisions only); 18 AN/AAR-47 Missile Warning Systems (12 installed, 6 spares); 18 AN/ALE-47 Chaff and Flare Dispenser, Electronic Countermeasures (12 installed, 6 spares); 12 AN/ALQ-210 Electronic Support Measures (ESM) Systems (installed); 24 M299 Missile Launchers; 12 GAU-21 Crew Served Guns aircraft provisions (installed, includes aircraft adapter, ammunition bin, and other accessories); 12 M240D Crew Served Gun Cradles (installed); and 18 AN/ARQ-59 Hawklink Radio Terminals (12 installed, 6 spares). Also included are AN/ARC-210 RT-2036 UHF/VHF radios with Communications Security (COMSEC); AN/APX-123 Identification Friend or Foe (IFF) transponders; KIV-78; KIV-6; KOV-21; KGV-135A; Advanced Data Transfer Systems (ADTS); Airborne Low-Frequency Sonars (ALFS) Training Simulators/Operational Machine Interface Assistants (ATS OMIA); spare engine containers. The total estimated value is $985 million, and the missiles carried on board are not included.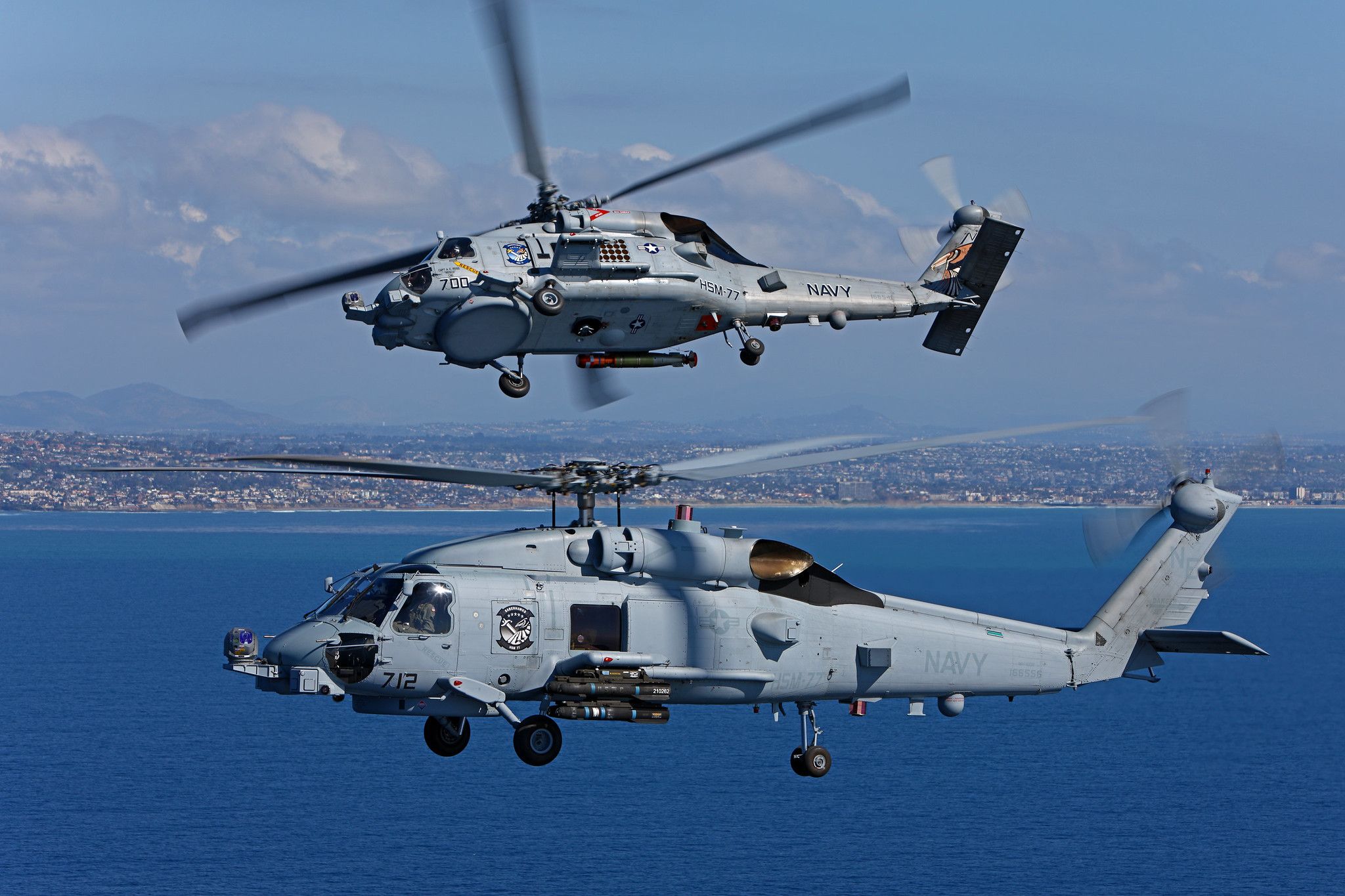 The LAU-61 G/A is a digital rocket launcher that allows for the selection of 70 mm rocket tubes without the requirement of the sequential intervalometer. Digitalization provides the ability to choose the appropriate warhead for different scenarios. The LAU-61 G/A is used primarily by the U.S. Navy and is only available through Foreign Military Sales.
M299 is an all-digital, smart, helicopter-mounted missile launcher enabled to carry and fire any combination of Hellfire II and Longbow Hellfire missiles.