Assignment to Defence Industry Agency Vice Presidency
The appointment of the Vice Presidents to the Defence Industry Agency (SSB) by President Recep Tayyip Erdoğan was published in the Official Gazette. Vice Presidents; Hüseyin Avşar, Hakan Karataş, İhsan Kaya, Gökhan Uçar, Mustafa Murat Şeker were appointed.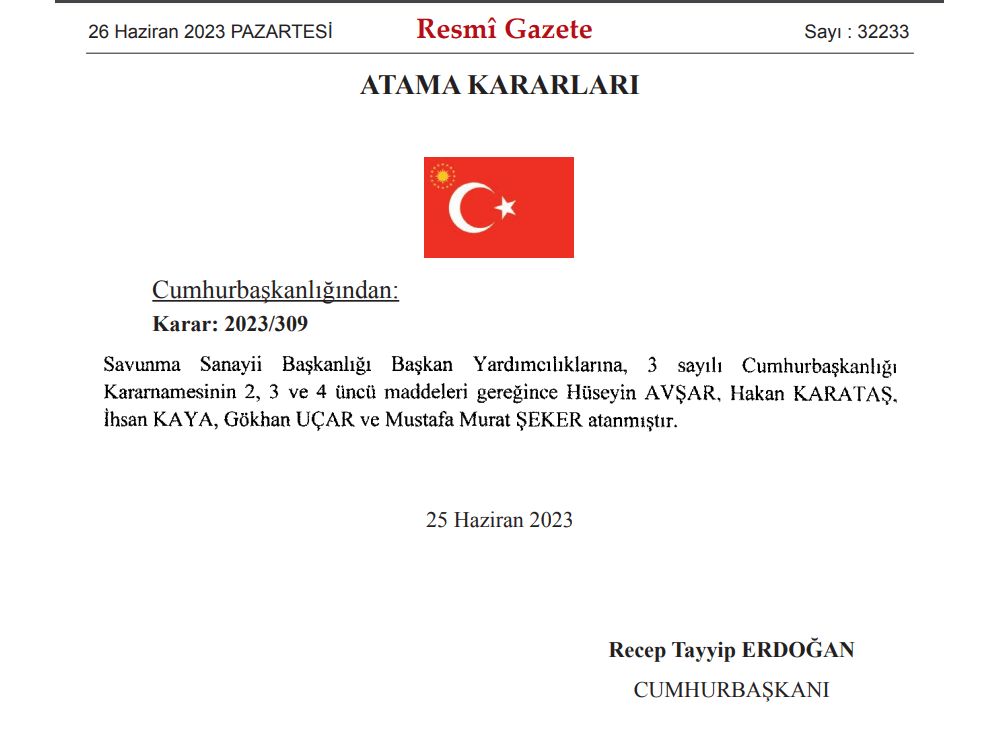 There are five Vice Presidencies at SSB. Mustafa Murat Şeker is currently Vice President at SSB. Celal Sami Tüfekçi was appointed as the Deputy Minister of Defence. He will be most likely responsible from MKE Inc and ASFAT Inc. No statement about Vice Presidents Serdar Demirel, Faruk Yiğit and Harun Çelik was made. Faruk Yiğit also serves as the Chairman of the Board of Roketsan.
Serdar Demirel, on the other hand, is the son of Galip Demirel, one of the important governors of the state, and the brother of former Minister of State Güldal Akşit, who passed away, one of the founders of the AK Party, but he is the person who undertook the projects related to aerial and naval platforms including Turkish Indigenous Fighter Project.
Hakan Karataş, appointed Vice President, had been working as the Assistant General Manager of ASELSAN for a long time. Karataş is very close to Professor Haluk Görgün, President of SSB. Karataş served as Vice President for corporate management at ASELSAN.
Hüseyin Avşar, Head of the Helicopter Department at SSB and Board Member at STM; Gökhan Uçar was the Head of the Unmanned and Smart Systems Department at SSB and a Member of the Board of Directors at TUSAŞ.
Avşar is expected to be appointed to Yiğit's position responsible for helicopter projects, ammunition, and space, and Uçar is expected to be the Vice President responsible for Turkish Fighter Project, aerial platforms and naval platforms.
It is known that İhsan Kaya is a Member of the Board of Directors of STM.