ASELSAN's turnover Reached 10.3 billion TL
While ASELSAN's gross profit climbed by 52% compared to the same period last year, Earnings Before Interest, Depreciation, and Taxes (EBITDA) increased by 36% compared to the same period last year, reaching 2.5 billion TL. The EBITDA margin stood at 24%. The net profit of ASELSAN was TL 3.1 billion. The equity to assets ratio of the corporation was 59 per cent. Balance orders totalled $9.3 billion.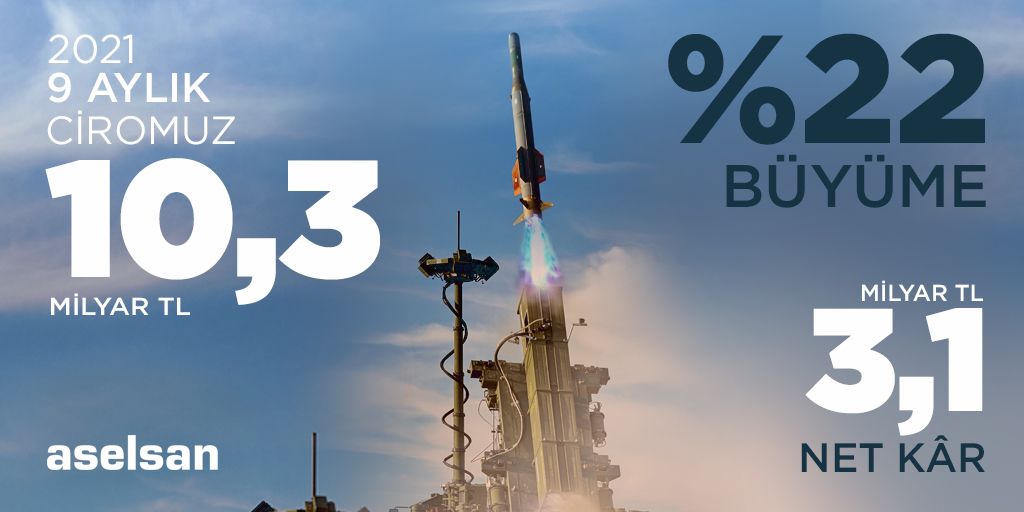 Professor Haluk Görgün, Chairman of the Board and General Manager of ASELSAN, commented on the company's nine-month financial performance, saying, "ASELSAN continued to generate value for the future of our country with all of our partners in the first nine months." Our effort proceeded unabated, with the hope that our independence in defence technology would rise with long-term progress. Our company's steady and lucrative expansion has persisted. When the first nine months of this year are compared to the same period last year, practically all of our financial indicators are predicted to show a positive trend by the year's conclusion.
New Orders of US$1.3 Billion in Nine Months
In this period, when the devastating effects of the pandemic were eliminated by rapid vaccination, ASELSAN increased new business by 78% compared to the same period of the previous year and once again demonstrated its leadership mission for our country by receiving 1.3 billion USD new orders in the first nine months. ASELSAN's total balance orders amounted to $9.3 billion as of the end of the third quarter. In contrast, 93% of the balance orders were defence orders, and 7% were non-defence orders.
Sustainable Growth with New Technologies
Professor Görgün underlined that local products are an important solution to the embargoes and supply problems. Görgün continued: "We see nationalization as a matter of survival not only in defence but also in all areas of technology. In this context, in the third quarter of this year, we took another step, which can be considered one of the historical milestones for ASELSAN, and entered the field of financial technologies. We believe that our entry into the field of financial technologies will reflect on both the orders that ASELSAN will receive in the coming period and its customer portfolio as a variety. The name of our ASELSAN will now appear in this arena, which includes various topics from new generation banking technologies to payment recording devices."