Akyol is appointed as CEO of ASELSAN
By the decision of the Board of Directors, Ahmet Akyol, President and Deputy General Manager of the Microelectronics Guidance and Electro-Optics (MGEO) Sector, was appointed as the CEO of ASELSAN to replace Haluk Görgün, who left the post of CEO of ASELSAN due to his appointment as the President of Defence Industry Agency (SSB) by President Recep Tayyip Erdoğan. The relevant announcement is made today at ASELSAN's social media account and Public Disclosure Platform (KAP)
The announcement at KAP said, "Ahmet AKYOL, Vice President of Microelectronics Guidance and Electro-Optics, has been appointed as CEO with the decision of the Board of Directors in place of Prof. Dr Haluk GÖRGÜN, who appointed as a President of Defence Industries by the President of the Republic of Türkiye, Mr Recep Tayyip ERDOĞAN."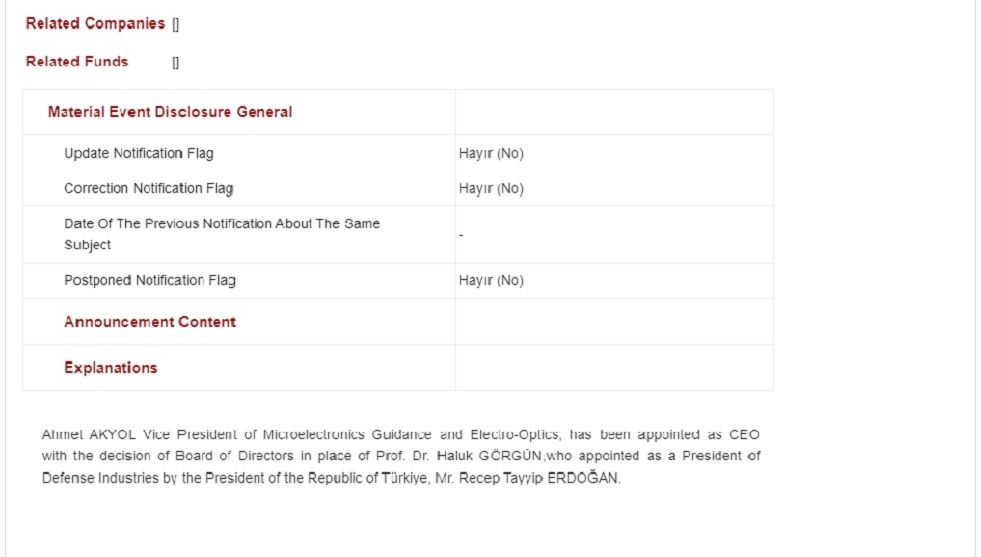 Ahmet Akyol was born in 1982. He completed his undergraduate education at Kocaeli University, Faculty of Engineering, Department of Computer Engineering, in 2005. He also graduated from Anadolu University, Faculty of Economics, Department of Public Administration, in 2010. In 2018, he received "Innovation Leadership" training at Stanford University and attended Electro-Optics and Communications training at Cranfield University. He continues his Master's degree in Public Administration at Yıldırım Beyazıt University.
Between 2007 and 2018, he served as an Engineer, Manager, Consultant and Member of the Board of Directors at the Turkish Grand National Assembly, Ministry of Science, Industry and Technology, Ministry of Defence, TÜBİTAK, HAVELSAN and Quantum. He started his duty as Head of the MEBS Department (Communication, Electronics, Information Systems) Department of the Defence Industry Agency on April 6; he has been working at the SSB as the Head of the EHRS (Electronic Warfare and Radar Systems) Department since January 26, 2021.
In addition, he continues his duties as HAVELSAN Technology Radar (HTR) Board Member, TÜBİTAK Savtag Executive Board Member, TÜBİTAK SAGE Executive Board Member and NATO STO Sensor and Electronic Panel Board Member.
He was appointed ASELSAN Vice President of Microelectronics, Guidance and ElectroOptics in the Board of Directors meeting dated June 28, 2020, effective by July 1, 2022.
Ahmet Akyol is married and has three children.