Turkish Defence Industry to improve with NATO Allies
At the meeting, it was decided to give more support to Ukraine and to support other regional partners under pressure. While Turkey came to the fore with its facilitating role in the negotiations between Ukraine and Russia, the steps towards reviving the SAMP-T air defence system project with Italy and France and the lifting of export restrictions by the UK regarding the defence industry were the crucial topics of the bilateral contacts carried out within the scope of the meeting.
Foreign Minister Mevlüt Çavuşoğlu met with British Foreign Minister Liz Truss. The two ministers discussed the economic relations between Turkey and the UK, defence industry cooperation and the situation in Ukraine. Evaluating the meeting at the press conference he held after the meetings, Çavuşoğlu said, "We followed up the issues that came to the fore in the meeting between Prime Minister Boris Johnson and our President in this hall about 15 days ago. One of them is the issue of the engine of the TF-X Fighter Jet Programme."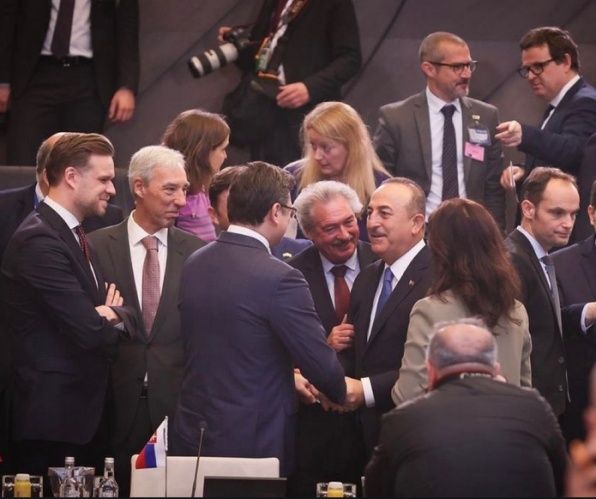 Çavuşoğlu said, "The UK has lifted export restrictions. We are pleased with this, but we want to develop our cooperation in important projects in the defence industry, including warplanes, warships and aircraft carriers. We followed up the decisions taken to improve our cooperation, especially in the energy field, with him today." he said.
Within the scope of the meeting, Çavuşoğlu also discussed bilateral relations and the latest developments in Ukraine with Canadian Foreign Minister Melanie Joly. Çavuşoğlu stated that President Recep Tayyip Erdoğan and Canadian Prime Minister Justin Trudeau followed up on the issues that came to the fore in the phone call. Çavuşoğlu said, "The most important issue here is the restrictions in the defence industry. In other words, we had problems with export permits. Our President brought up this issue on the phone. We agreed with Foreign Minister Melanie Joly to overcome this problem with today's letter exchange. Our friends are currently working on the letter issue," Çavuşoğlu said.
Çavuşoğlu also stated that NATO allies are in a severe change of attitude towards Turkey.
Çavuşoğlu also met with Italian Foreign Minister Luigi Di Maio and discussed the developments in Ukraine and Libya and defence and economic cooperation.
Regarding the meeting, Çavuşoğlu said, "We especially evaluated the steps regarding the realization of the Turkey-Italy-France trilateral meetings and the revitalization of the Eurosam, SAMP-T project, for which we signed the letter of intent before." said.
Recalling that President Erdoğan discussed this issue with French President Emmanuel Macron and Italian Prime Minister Mario Draghi at the margin of the NATO Leaders' Summit, Çavuşoğlu said, "We agreed to come together to prepare for the tripartite meeting at the level of foreign ministers, defence ministers and leaders in the coming period. " he said.