Poland buys K2 Black Panther MBT, K9 Thunder SPH and FA-50 Fighting Eagle light fighter jets from ROK
According to his statement, the first unit of K2 Black Panther will be shipped this year directly from Korea. Most of these tanks will be manufactured in Poland under license.
The Main Battle Tank made by Hyundai Rotem is manned by a crew of three consisting of a commander, driver, and gunner.
This 55-ton combat vehicle is equipped with a 1,500 hp Hyundai Doosan Infracore DV27K 4 diesel engine. It has a maximum speed of 70 km/h and an operating range of 450 km.
The main weapon is the canon Hyundai WIA CN08 120 mm calibre, available with 40 rounds of munitions. The secondary armament is one 12.7 mm SMB and one 7.62 mm SMS.
Apart from Poland, other countries that are interested and have evaluated the K2 Black Panther are Norway and Egypt, which intend to produce it under license.
Furthermore, Poland will also acquire 120 chassis of the K9 Thunder SPH combat vehicle. A total of 24 direct from Korea, and the remaining 96 will be produced in Poland under license as part of the AHS Krab program.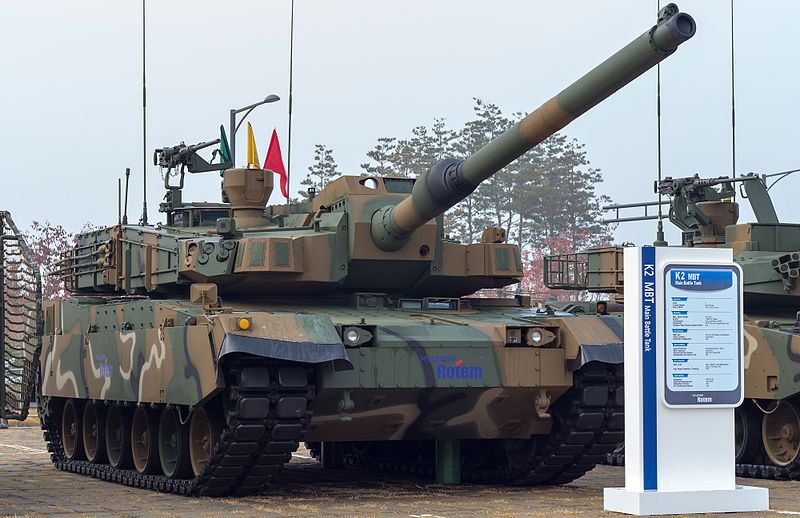 The AHS Krab will be produced by Centrum Produkcji Wojskowej Huta Stalowa Wola, combining the Korean K9 Thunder chassis with the UK's AS-90M Braveheart turret.
The K9 Thunder field artillery system was initially designed by the Korean Agency for Defence Development (ADD) and Samsung Techwin, while Hanwha Defence now carries out the manufacturing process.
Apart from the K2 Black Panther MBT and K9 Thunder SPH, Poland will also buy KAI's FA-50 Fighting Eagle light fighter jet; 48 jets were acquired to replace the Soviet-era MiG-29 Fulcrum.