Pakistan Cancelled its T129 ATAK Order and is Looking for Chinese ones
Director-General of the Pakistan Armed Force's Inter-Services Public Relations Babar Iftikhar confirmed the cancellation of the contract with Turkey and the existence of talks for the acquisition of Z-10ME attack helicopters from China by saying, "we have moved on from the (T129) deal with Turkey."
The agreement was signed in 2018 with Turkish Aerospace Industries for 30 T129 ATAK helicopters, valued at 1.5 billion dollars. The project was delayed due to the lack of permission from the U.S. for the export of the LHTEC T800- engines to Pakistan. The CTS800 engine is jointly developed by American Honeywell and British Rolls-Royce companies.
The U. S. announced the first blockade in July 2019, days before a meeting between the former U.S. president, Donald Trump, and Prime Minister Imran Khan in Washington.
The Philippines had negotiated the purchase of six units in 2018 and was recently granted this export permit. According to the latest information available, the first units of the Philippine T129 would have been received in December.
Morocco (22 units), Iraq (12 units), and the Nigerian Air Force have all expressed interest in the Turkish helicopter. However, its export potential will be limited by diplomatic relations between the United States and the interested countries as long as the ATAK does not see it as North American engines being replaced by others of Ukrainian or Turkish.
In January 2020, the head of Turkey's Defence Industries (SSB), Professor Ismail Demir, said that Ankara and Islamabad had extended the delivery deal by another year to ensure a smooth delivery.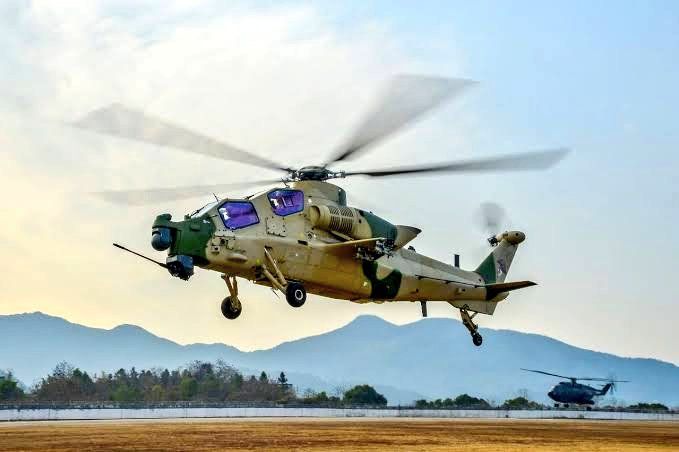 According to its manufacturer, the Z10ME is a 6-ton class advanced attack helicopter with day/night combat capacity. It can carry various weapons such as air-to-ground missiles, air-to-air missiles, rockets, and cannons.
The Z10ME is capable of carrying out attacks on fortifications, armed or non-armoured mobile ground targets, and attacking air targets such as enemy helicopters.