National Connector for Indigenous Projects
TÜBİTAK SAGE (Defence Industry Research and Development Institute) announced from its Twitter account that the test infrastructure for the national connector is ready for use.
Manager of Institute, Gürcan Okumuş, provided detailed information from his personal LinkedIn account. Okumuş reminded that connectors are a small but very critical component of ammunition systems.
Okumuş said in sum;
Connectors produced according to military standards should remain operational under very severe conditions (such as +175 to -65 temperature conditions) and they can only be used in the defence industry.
Military type connectors are very expensive. They might be subject to export licence and delivery times take months.
Turkey imports annually about 100 million US $ connectors.
Within the scope of MİLKON (National Connector Development Project), we have been working on the development/qualification of connectors in accordance with military standards for about 1.5 years, and significant progress has been made. At this point, we should underline that;
TÜBİTAK SAGE has no plans for mass production of connectors.
Within the scope of the national connector development project, we conducted system engineering studies by analysing tens of thousands of pages. On the other hand, the matrix of 43 different tests referred to by the standards was removed and the infrastructure was established. We have now created all the know-how regarding the development and qualification of any connector to military standards such as MIL-DTL-38999/83538.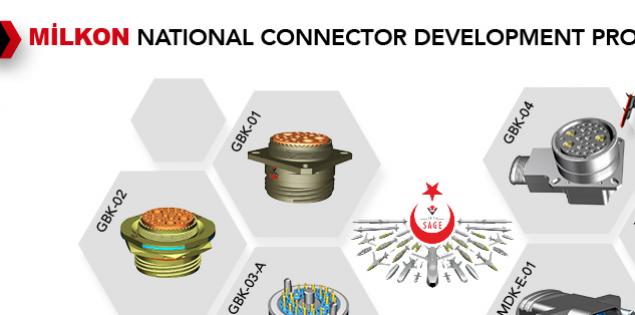 We are ready to work to provide support to our valuable companies that produce connectors for the civil sector in our country and to get rid of import dependency.