Kuwait's First Two Eurofighter Typhoons Fly for the First Time.
The two planes were assigned the Italian experimental serial numbers CSX55243 and CSX55244. However, while in service with the Kuwaiti Air Force, they will be designated KT001 and KT002.
Kuwait is set to receive 28 Typhoons: 22 single-seater and six twin-seats. The Typhoons will be equipped with the first variant of the Captor E AESA radar, the ECRS Mk 0, together with P3Eb (Phase 3 Enhancements Package b) multi-role features and the Sniper Advanced Targeting Pod, in what is considered the most advanced Typhoon ever produced.Kuwait will be the eighth Eurofighter operator, joining Austria, Italy, Germany, Spain, Oman, Saudi Arabia, and the United Kingdom.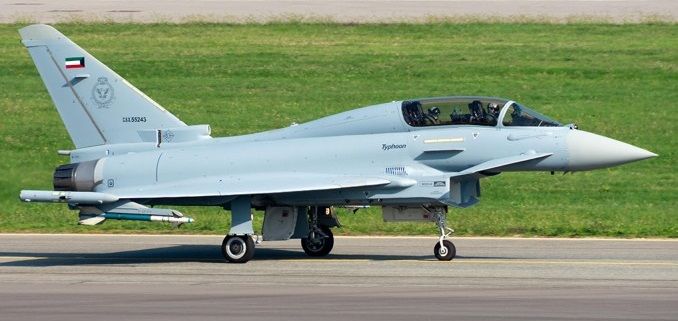 The Kuwaiti Air Force has been flying with a F/A-18C/D single-type frontline since the retirement of Mirage F1Ks and A-4KUs Skyhawks after the Gulf War. However, it will soon return to a two-type frontline with an order for 28 Super Hornets in 2018, with the same mix of single and two-seaters: 22 F/A-18Es and 6 F/A-18Fs.The Kuwait parliament is concerned about the cost. The European Parliament wonders why the Eurofighter contract is so costly. Each fighter plane costs $110m for other countries, while in Kuwait, it's $321m.