HAVELSAN's Digital Troops to Step into the Field
It is aimed that the "digital troop", which will serve together with unmanned aerial, land and naval vehicles developed within the Turkish defence industry, will take to the field this year. HAVELSAN, which has been working for the "swarm capability" that enables unmanned vehicles to work together, aims to cross a threshold this year. They are referred to as digital troops when they are combined under the Super Intelligence System. Mehmet Akif Nacar, General Manager, briefed the Anadolu Agency correspondent on the digital troop efforts and developing the new Unmanned Ground Vehicle (UGV) Barkan Project.
The Superintelligence System is a mobile analysis system designed to improve military efficiency in the digitalised battlefield, especially that of Autonomous ground and air systems, which serves alongside military units on the battlefield. It is an AI and intelligence system that improves mission effectiveness by providing advanced data processing and analysis capabilities. HAVELSAN plans to deploy the troops, including unmanned vehicles that have reached a certain level of maturity, this year after introducing the concept at the 15th International Defence Industry Fair (IDEF 2021).
Stating that unmanned ground, aerial and naval vehicles have attracted significant attention recently, Nacar said they would reveal examples of the digital troop concept created using these platforms this year. Nacar said: "We are completing a number of infrastructure projects related to such unmanned vehicle field activities with our teammates. We will begin field demonstrations of them in 2023. The components that we have talked about so far have gradually become ready. Barkan, Baha, and Sancar will now work as a component of the digital troop and the 'single soldier'. It is time to demonstrate how to position itself in unison on the pitch. As a result, our friends will begin testing and verifying this."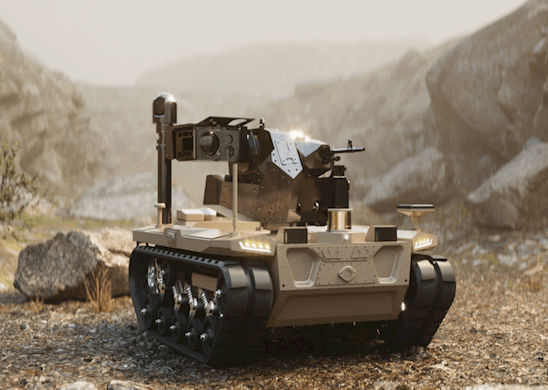 Emphasising that they have developed various products to participate in digital coexistence and made improvements over time, Nacar also said the following about the unmanned land vehicle Barkan: This product has been field tested for about two years. The product was updated to meet the anticipated needs, and the Barkan-2 was born. The product now includes new features. "The vehicle we presented at SAHA Expo, for example, had a 12.7-millimetre weapon system; previously, there were 7.62 mm weapons." "The design work on this is complete, and production is proceeding." A small number of them will be put in the service and tested. We will begin serial production very soon as a result of the tests. We anticipate starting manufacture in the first half of 2023. " Currently, we have Barkan used for testing." Test and platform improvement studies are also carried out for the Autonomous Heavy Class UGV Kapgan, which was developed under the leadership of HAVELSAN with the collaboration of leading companies in its field. BARKAN is well-suited for multi-purpose missions due to its autonomous capabilities and modular design, allowing various payloads to integrate. It was intended to transport or tow, provide close protection, and carry out armed reconnaissance.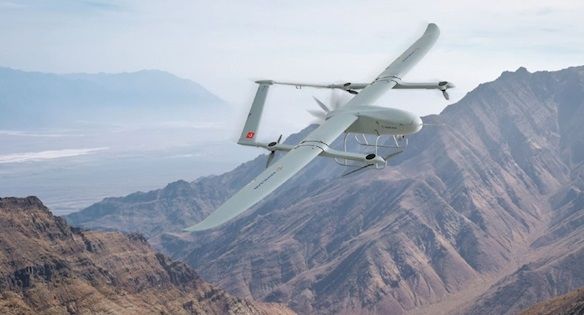 With its vertical landing and take-off capability, Baha is a Sub-Cloud Autonomous UAV that can perform joint operations with all unmanned systems. It has fully autonomous mission capability, a modular architecture that can integrate numerous payloads, and many other features. Baha does not conduct attack missions. KAPGAN UGV is designed to accompany troops in different tasks with high manoeuvrability, especially in challenging terrain conditions. In addition to advanced payload options for various functions, such as the Upgradable Perimeter Surveillance System, the integrated 30 mm Gun with an effective range of two kilometres provides deterrence at low volume against land and air targets in the field with its armour-piercing feature. KAPGAN can perform various tasks, from carrying military equipment, casualty transfer, and disposing of bombs to surveillance, reconnaissance and damage assessment. KAPGAN's 5-kilometre tactical data link, GSM and satellite communication infrastructure, four meters Upgradeable Peripheral Surveillance System and high-tech sensor systems enable this UGV to survey the environment, allowing it to carry out day/night reconnaissance and surveillance missions.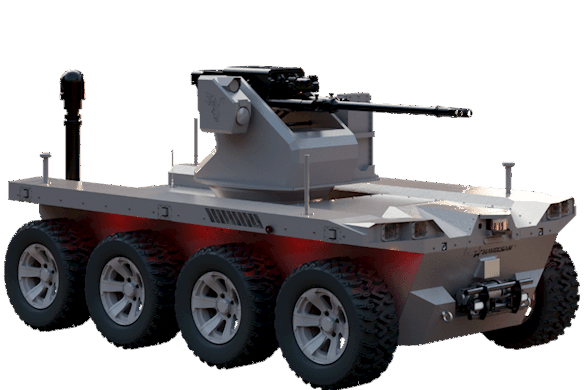 When the range is insufficient, the wired or wireless drone integrated into the vehicle can be used as a relay
Furthermore, continuous communication via the drone-integrated modem can enhance the system's reconnaissance and surveillance capabilities. KAPGAN's swarm infrastructure will allow it to conduct joint operations with other autonomous systems. SANCAR is an autonomous Unmanned Surface Vehicle (USV) designed for intelligence, surveillance, and reconnaissance (ISR) missions along with defence without personnel within the scope of the requirements of digital battlefields. In collaboration with Yonca-Onuk Shipyard, HAVELSAN developed the SANCAR Armed Unmanned Surface Vehicle (AUSV). The SANCAR AUSV is the first unmanned system to use the ADVENT ROTA (ADVENT C4ISR System), intended precisely for unmanned systems. SANCAR AUSV is NATO Interoperability Standard-compliant and can be controlled from a mobile Ground Control Station with an ADVENT C4ISR mission system.